Microservices
Soap is has traditionally been used to connect code running on Windows and Linux platforms, but the world has moved on. Today, the cleanest approach is to run each software building block in its own virtual machine. This is essentially a microservice. The code runs in a container, complete with its own operating environment, and communicates with other microservices using a Representational state transfer (REST) or RESTful APIs.

Download this free guide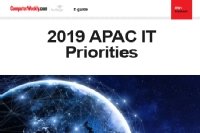 Make 2019 the year of great IT decisions
Before any investment, how about taking a look at your peers' IT priorities for 2019? Download the results of our survey right now to find out in which areas IT decision makers are planning to invest in the nearest future!