Datacentre energy efficiency and green IT
Learn how to green your datacentre with advice on increasing datacentre energy efficiency, building a case for a sustainable datacentre, and complying with UK and EU energy-efficiency regulations.

Download this free guide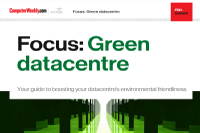 Datacentres - 5% of the world's global energy
Don't be a Trump. Datacentres currently represent 3 to 5% of the world's energy. That's the same as the entire aviation market. Your environment needs you! Do your part and click here.