Information technology (IT) in Australia & New Zealand
Read the latest news and trends about information technology (IT) in Australia and New Zealand. Find valuable resources on IT management topics, including security, data storage, backup and recovery, networking, data centre, cloud computing, mobile technology, virtualisation, big data, virtual machines, enterprise software and more.

Download this free guide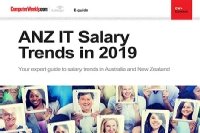 ANZ IT Salary Trends in 2019
Here you can find everything about the IT salary trends in ANZ, including the perks that will keep IT workers in their jobs, the most sought-after roles in the sector, as well as the state of workforce diversity in IT departments across the two countries.