Open source software
Open source software (OSS) has become an important part of many enterprise IT strategies, and OSS products are available to support a wide range of IT needs. Products such as Linux, Apache, Ubuntu, MySQL and Firefox are widely used. We look at the latest trends and technologies.

Download this free guide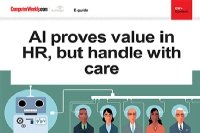 How AI is putting the 'human' back into Human Resources
Discover how the allocation of work by algorithm might have advantages for workers as well as employers, how AI is proving its value for HR and how data analytics is being used to support expansion and development.