Open source software
Open source software (OSS) has become an important part of many enterprise IT strategies, and OSS products are available to support a wide range of IT needs. Products such as Linux, Apache, Ubuntu, MySQL and Firefox are widely used. We look at the latest trends and technologies.

Download this free guide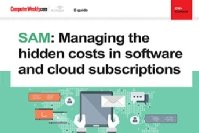 How to effectively manage the hidden costs in your software and cloud subscriptions
Discover how software asset managers are coming up with new ways to give employees freedom and flexibility whilst keeping the ability to easily audit what is being used on-premise and in the cloud as well as what is no longer being used.