Integration software and middleware
IT integration is an important but often complex aspect of IT strategy, and is essential to any organisation that require efficient sharing of information between different products sourced from many suppliers. Every major vendor has their own integration software and middleware offerings, including messaging and enterprise application integration, and making the right choice for your organisation is critical. We examine the latest trends and technologies.

Download this free guide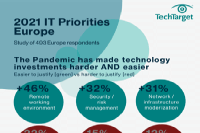 IT Priority Budgets 2021 Infographic
After surveying near 500 European IT sector professionals, the jury is out on what companies across the continent will be spending on in 2021. We dive into what spend will be easier to justify, if budgets for IT companies are on the rise or fall and what the 2021 project rankings are for most in the new year. Download this PDF infographic to find out what the results showed.