Sergey Nivens - stock.adobe.com
Qualcomm claims world first for 5G mixed reality
5G-supported extended reality platform is claimed to offer more immersive, intelligent and connected experiences
Qualcomm has launched what it claims is the world's first 5G-supported extended reality (XR) platform – the Snapdragon XR2 – which it says ushers in a new era of augmented, virtual and mixed reality experiences that are more immersive, intelligent and connected.
The company says the new technology combines its artificial intelligence (AI) and communications innovations in an XR environment and boasts custom features and multiple firsts that can be scaled into not just XR but augmented reality and virtual reality.
Compared with Qualcomm's current premium-tier XR platform, the new version is said to deliver twice the CPU and GPU performance, four times more video bandwidth, six times higher resolution and an 11-fold AI improvement. The company also claims it is the first world's first XR platform to support seven concurrent cameras and a dedicated computer vision processor.
To meet the demands of what Qualcomm calls a truly immersive XR environment, the platform has customised visuals, interactivity and audio technologies, all of which use the foundational technology of AI and the option of 5G connectivity, which the company says has the potential to unleash a "tidal wave" of XR experiences that require low latency and ultra-fast data speeds. The 5G connectivity enables XR using split processing between a device and edge cloud to offer cordless photorealistic and high-quality experience, it adds.
Qualcomm says multiple original equipment manufacturers have committed to commercialising devices with the Snapdragon XR2 platform, and other customers are in various stages of prototyping and evaluation.
Neil Mawston, analyst at Strategy Analytics, said the launch is good news for the smart glasses market, which he described as having long been a "graveyard of failure" for Google Glass, Snap Spectacles, Vuzix Blade and others. But he also identified a number of gating factors, beginning with the manufacturers.
"We expect high pricing to be a challenge for any 5G smart glasses, while no manufacturers truly have any idea what might be the next killer app for such devices," said Mawston. "As so often, the wearables industry will probably sit on its hands and wait to see what Apple does. Will we see a pair of iGlasses next year?"
Read more about mixed reality
Content Continues Below

Download this free guide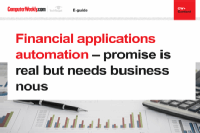 Financial applications automation – promise is real but needs business nous
The automation of the financial software that lies at the heart of any business & accountancy, budget management, general ledger, payroll, and so on & is a prize many organisations are eyeing up, with machine learning and robotic process automation close to mind. Find out everything you need to know by downloading this PDF E-Guide.