A guide to ERP for small and large businesses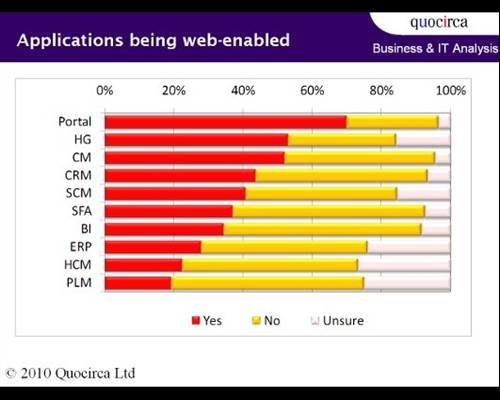 ERP moves onto the web
ERP is being web-enabled, but on a more modest scale. Businesses have been slower to web-enable their own ERP applications ahead of other, more obvious, candidates such as portals, content management and CRM, but even when Quocirca's research was published, 25% had done so. The market for SaaS-based ERP has been growing, although vendors in this space admit it is complicated to build such applications. The best-known pure play SaaS-ERP vendor is NetSuite and the traditionally on-demand vendors are following, including SAP with its Business-by-Design product. So is there something holding back the market for SaaS-based ERP? There is a limiting factor, and this brings us full circle. Small suppliers do need to integrate with their larger suppliers' ERP systems, but their internal processes and requirements will often be very different. Many will buy the ERP application that most suits their internal use and seek to integrate it with whatever applications are used by organisations they trade with.
While SAP has the largest marketshare for ERP applications, there still leaves a lot of share for other suppliers, the names of which may not trip off the tongue. It can be hard to find out where the applications of some of the smaller players are being used.
Tying down ERP market share is tricky. Large enterprises also buy mid-market products. That is not to say they ignore the big players, but they select certain products to fit niches that SAP and Oracle do not serve well. SearchManufacturingERP.com gives the example of French company Areva using Infor SiteLine for site operations alongside SAP for its financials. It felt the Infor product was more cost-effective and easier for its employees to learn to use for that particular purpose or group of users.
View All Photo Stories