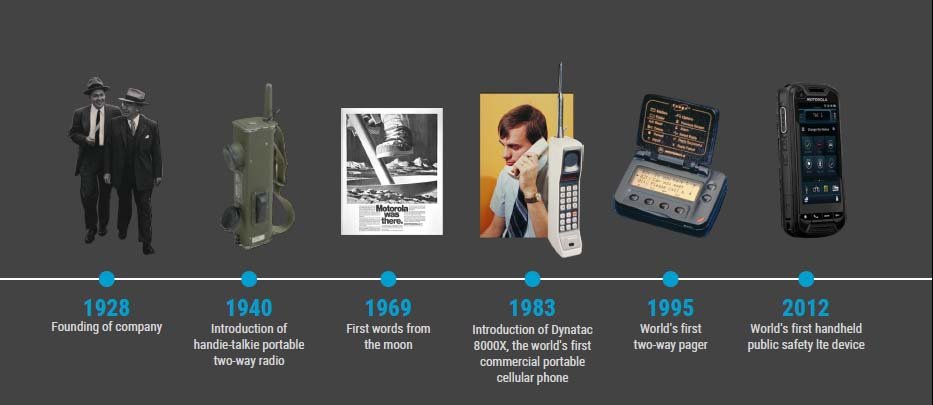 On September 25, 1928, Paul V Galvin and his brother, Joseph, incorporated Motorola's founding company—the Galvin Manufacturing Corporation—in Chicago, Illinois, USA. Following the introduction of a car radio in the early 1930s, the company created the Motorola brand.
The company has been involved in military communications during the 1940s, and the Nasa Apollo Moon mission.In 1979, it launched the MC68000 hybrid 16/32-bit microprocessor that later powered the first Apple Macintosh and Atari and Amiga home computers. It also launched the world's first mobile phone in 1983.
On January 4, 2011, Motorola separated into two independent, publicly-traded companies: Motorola Solutions and Motorola Mobility. Motorola Solutions (NYSE:MSI) provided mission-critical communication products and services for enterprise and government customers.On February 19, 2016, Motorola Solutions announced it had completed acquisition of Airwave in the United Kingdom. Airwave, the largest private operator of a public safety network in the world,
Motorola Mobility made mobile cellular devices and cable video management equipment and was acquired by Google for $12.5 bn in 2011. The company was subsequently sold to Lenovo in 2014 for $2.5bn.
View All Photo Stories