A guide to ERP for small and large businesses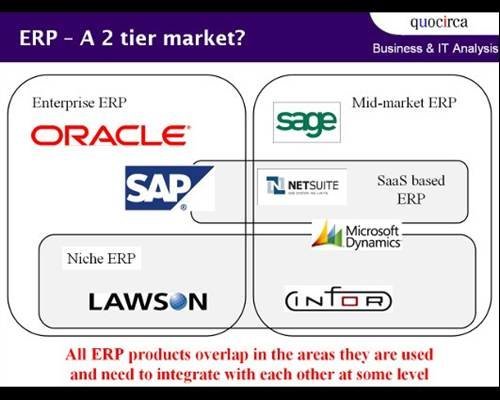 SAP is number one, but there are plenty of other players
Tier-two ERP is making a muddle of market share figures because many product usage surveys only ask questions such as "what is the main ERP product you use?", or they only interview representatives from the finance department who forget about products used by other departments. In fact, the mid-market vendors see the two-tier market as a significant opportunity for increasing their market share. Microsoft has a page dedicated to tier two on the Microsoft Dynamics area of it website. It provides a number of case studies, including the German company Wurth, which uses Microsoft Dynamics' Navision in branches while maintaining SAP at its HQ.
While SAP has the largest marketshare for ERP applications, there still leaves a lot of share for other suppliers, the names of which may not trip off the tongue. It can be hard to find out where the applications of some of the smaller players are being used.
Tying down ERP market share is tricky. Large enterprises also buy mid-market products. That is not to say they ignore the big players, but they select certain products to fit niches that SAP and Oracle do not serve well. SearchManufacturingERP.com gives the example of French company Areva using Infor SiteLine for site operations alongside SAP for its financials. It felt the Infor product was more cost-effective and easier for its employees to learn to use for that particular purpose or group of users.
View All Photo Stories