Photos: The technology driving air traffic control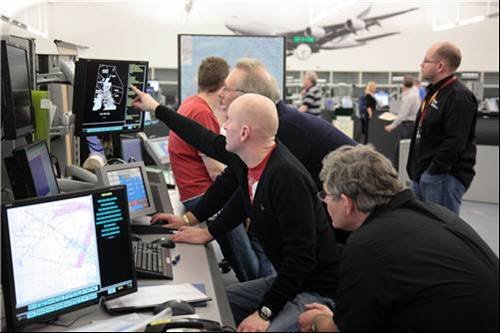 Controllers work on the new equipment
Emergencies: Air traffic controllers play a role in dealing with national and international emergencies, and must be ready to act if something big happens.

When the terrorist attacks happened in New York in 2001, the US closed its airspace and UK air controllers were left with half an Atlantic full of planes, around 200 in total.

The aircraft had to take care of themselves as they each turned around with about 60 miles between them, and returned to the UK.

"Extra staff came in to help without being asked, because they knew things were going to get interesting," said Astill. But the process got easier as other outgoing flights were cancelled, freeing up space.
Controlling air traffic is one of the world's more stressful jobs. There's the "life and death" element of it, plus the need for razor-sharp reactions on everything from terrorist attacks to extreme weather. But despite the apparent complexity of the task, and the high-tech appearance of the equipment, it's still a job that relies completely on the ability and skill of its staff.
Read full article >>
View All Photo Stories