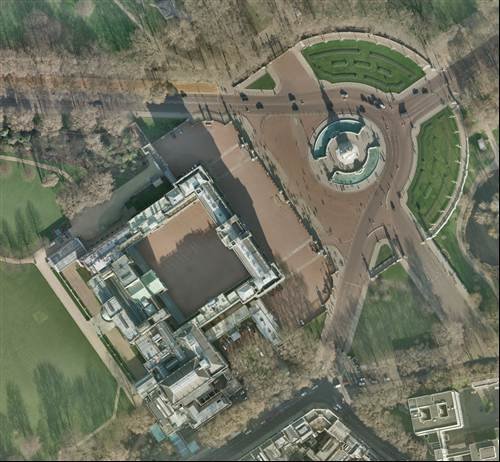 Source:
BlomURBEX
Buckingham Palace from above
Buckingham Palace – home of Queen Elizabeth II
Blom Aerofilms, a geographic information provider, has recently launched a new platform providing high-resolution pictures of over 1,000 European cities to desktops and mobiles, including these stunning aerial views of London.
The original images, taken from Blom's own fleet of planes, are available now on the BlomURBEX platform in a stunning 10cm resolution and fully geo-referenced. Blom's platform is custom-built to cope with the memory campacity demands of serving up such hi-res images to users. Even compressed down to fit into our own lower-capacity gallery, these stunning photos of London from above still show off the technology to great effect.
The BlomURBEX platform is complemented by a software development kit (SDK) that will allow developers to build applications such as consumer navigation systems or commercial applications in areas including urban planning, site appraisal and commercial property underwriting. The SDK will support the creation of applications to work on existing web and mobile platforms such as Windows, Symbian and iPhone.
Blom Group also provided the images behind Microsoft's Virtual Earth service.
See also: Concept video of Demyko application for iPhone based on BlomURBEX platform