Photo review: Karmic Koala kickstarts new Ubuntu 9.10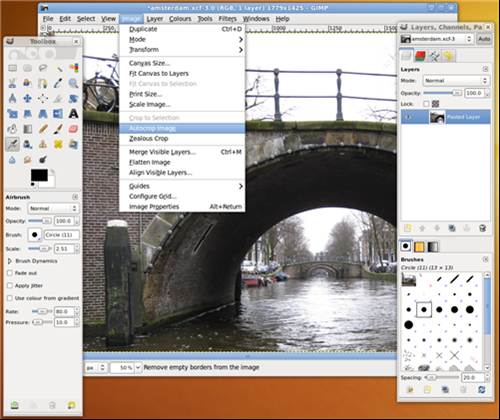 Gimp - Review of Ubuntu Karmic Koala
One advantage of Ubuntu over commercial operating systems is that it comes with a full set of applications, enabling you to start work (or play) immediately. This is an advantage that the commercial vendors are unlikely ever to match, since application sales are part of their business model. The Gimp - it stands for GNU Image Manipulation Program - is an open source bitmap paint and edit tool, now at version 2.6.7 and looking polished and professional.

You also get Open Office 3.1 installed by default, with word processing, spreadsheet and presentation graphics. Email is offered by Evolution, though Mozilla Thunderbird is also on offer through the Software Centre. Firefox 3.5 is pre-installed in a default setup.
Ubuntu 9.10, also known as Karmic Koala, is taking on Microsoft's Windows 7. The Koala has a better software installer, faster boot times and much more. Here's our thorough review.
See also:
Photos: The 7 sins - Microsoft's worst inventions ever
Photos: The Dirty Dozen of Windows 7 - things that might bug you
View All Photo Stories