Photos: Office 2010 first look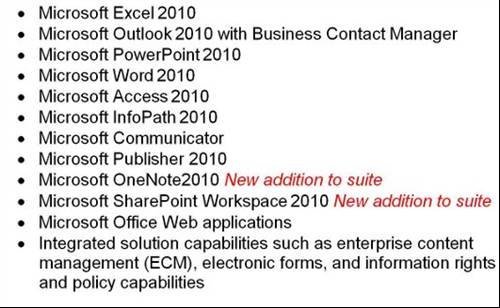 Pricing and availability
Microsoft has not announced pricing for Office 2010 yet. It is due to ship in the first half of 2010. Along with the usual desktop installation version, a free, browser-based version will be made available in the cloud, via Windows Live. Users will also be able to run the browser version from a server within the corporate network should they wish. Office 2010 will be available in three main versions, covering professional user, small business and home/student users. Microsoft's OneNote product will be shipped in all three versions of Office 2010.
Microsoft has unveiled a technical preview of Office 2010, the next version of its Office productivity suite at the Microsoft Worldwide Partner Conference.
Office 2010 provides three ways of working. First, users can install it on their PC. Second it is possible to run Office 2010 in a web browser over the company intranet. Third, Microsoft is offering a free cloud-based version, through its Windows LiveWork service.

Due out in the first half of 2010, Office 2010 will be available in three versions targetting businesses, home users and student, and small businesses.
View All Photo Stories