Photos: Hardware Hoarders - Your old computers (PART 1)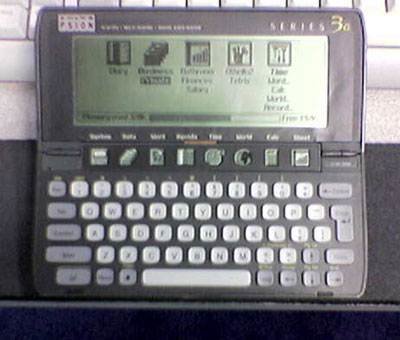 Steve Robsons trusty Psion 3a
Steve's hung on to this Psion 3a since 1993 and still uses it every day. Steve says of his faithful companion: "I was affronted to see one in the Science Museum. How dare they!" Steve's kept using this palmtop because: "It's just the right size to do what it's supposed to do; I don't have to file my fingers to a sharp point to use it and I can read the screen! It's got 512k ROM/RAM built in plus 512k flash which holds all the data I need it to. It runs all the software tools I need and doesn't do all the extraneous guff that I don't want it to; no music player, no bloated operating system or application software; no camera. You can even write your own applications for it, not that I have. Slight limitation is that the calendar stops at 2nd Jan 2050. But I'll be nearly 90 then..."
We're inviting Computer Weekly readers to send us photos and videos of the oldest IT equipment they've held on to, and to share their excuses for hoarding it.
We had around 70 photos last year!
See our other hoarders:

Part 1

Part 2

Part 3

Also, if you've enjoyed this, you might also enjoy our very own
If you have some kit you want to show off, send your pictures to [email protected].
View All Photo Stories