Photos: Hardware Hoarders - Your old computers (PART 1)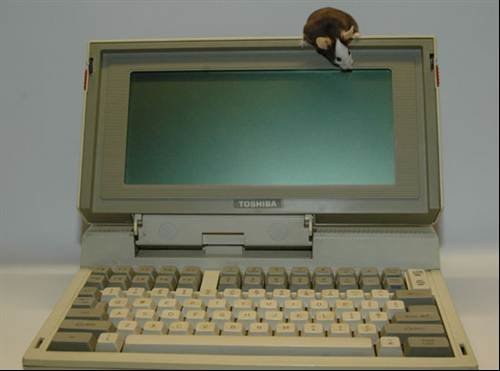 Eric Jukes 1985 Toshiba T1100 - and mouse
Eric Jukes 1985 Toshiba T1100 is pictured with a revolutionary new breed of mouse! Eric says: "Produced in 1985 the Toshiba T1100 is claimed to be the world's first mass-market laptop computer. This computer has a 4.77 MHz Intel 80C88 processor, MS-DOS 2.11 operating system, one 720-kilobyte 3.5-inch floppy disk drive, and has 512-kilobyte RAM. Note that this computer was not manufactured with a hard drive and nor was there any option for one - it was floppy only! The system was 12.2-inches wide, 2.6-inches high and 12 inches deep with a weight of just nine pounds! (A true brick!) This machine has the optional 14.4kbps modem connectivity. The US price was more than US$4,000 in 1985 - I think this one was about £1,500 in the UK. It was a monochrome display - not Windows - and had no mouse - but I've supplied one for these pictures!" There's more of Eric's Hereford mouse elsewhere in this gallery...
We're inviting Computer Weekly readers to send us photos and videos of the oldest IT equipment they've held on to, and to share their excuses for hoarding it.
We had around 70 photos last year!
See our other hoarders:

Part 1

Part 2

Part 3

Also, if you've enjoyed this, you might also enjoy our very own
If you have some kit you want to show off, send your pictures to [email protected].
View All Photo Stories