Photos: Gartner Symposium Keynote, Cannes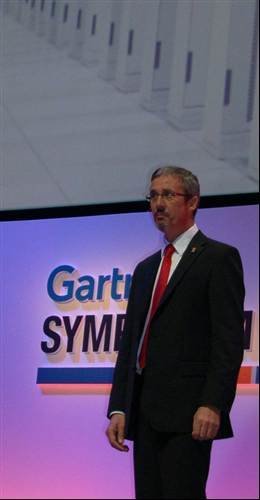 Gartner fellow Brian Gammage: Align IT with business and look for cost savings in the cloud
So how can IT make a difference in the downturn? Gartner fellow Brian Gammage, suggested that CIOs link IT tightly with the needs of the business. He recommended they look at areas of IT commodisation, to find the biggest cost savings. "Move commoditised IT systems into the cloud. For instance if you move your data centre to a cloud provider, it will cost a tenth of the cost." Such savings can be reinvested to enable IT to develop products and services to help differentiate the business.
See our Gartner Special Report and replay our live discussion.
Given a backdrop of economic slowdown and recession, the Gartner Symposium in Cannes has kicked off with a sombre message for chief information officers and IT directors: rather than look at reducing costs, look at adding value. True innovation occurs when trading conditions are tough. The message from the keynote speakers is: "IT must innovate in this economic downturn." Further photos are also available on Gartner's Flickr pages.
View All Photo Stories