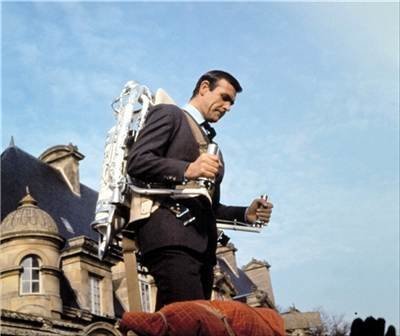 Source:
Rex Features
Jet pack - Thunderball (1965) Sean Connery
Not really a gadget but one of the more memorable personal devices that Bond has possessed. After killing Colonel Jacques Bouvar at a chateau, Bond uses the jet pack to return to his car, an Aston Martin DB5. The pack used was developed by Bell Aerosystems as the Bell Rocket Belt which only had a 20 second flying time using a hydrogen peroxide fuel. The scenes in Thunderball were shot using two stuntmen and the shrill sound of the jets was overdubbed with the sound of a fire extinguisher. In 1984, a Rocket Belt was used in the opening ceremony for the Olympic Games in Los Angeles. Jet packs may not have taken over the world but a mild solution of hydrogen peroxide on cotton wool can be used to disinfect and clean keyboards.
There is a definite bond between secret agents and gadgets. From the Geiger counter in Dr No, James Bond has been bedecked with hardware that has ranged from the plausible to the fantastical. The current Bond (Daniel Craig, starring in The Quantum of Solace) is a relative technophobe, which is a pity because the Bond devices have always stirred the imagination. Here are our top fifteen gadgets that are either real or have perhaps inspired technological innovation.
What do you think? E-mail us your favourite Bond gadget or even let us know if we've missed any. Send your comments to computerweekly.com with 'Bond gadgets' in the headline.