Microsoft Home explores future uses of technology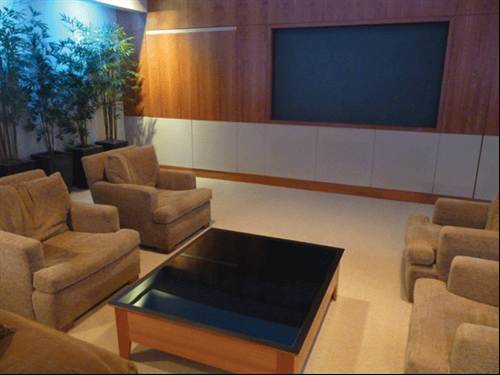 ENTERTAINMENT ROOM
The LED lighting system around the perimeter of this room, blue in this image, is adjustable in both colour and intensity. The versatility of the lighting system can be used to create the mood of a quiet, moonlit evening or transform the room into a fully-blown disco. The coffee table in the foreground works as a touch-sensitive computer interface and display, linked to the large screen set into the wall. A few gestures or voice commands is all that is needed to turn the room into a cinema or to begin an interactive tour of a virtual art gallery.
The Microsoft Home explores technology that might enhance life at home in the next five to ten years.
Since 1994, the project has served as a launch pad for new ways of thinking about technology's potential impact on people's daily lives
The Microsoft Home simulates a domestic environment including a front door, entrance hall, kitchen, family room, dining room, entertainment room and bedroom.
View All Photo Stories