Photos: MoD - War, weapons and gadgets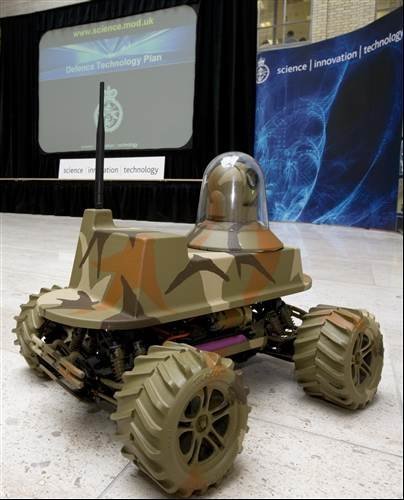 Source:
Allan House / MoD, Crown Copyright 2009
A Testudo robot
Testudo was developed by Mindsheet, a small Hampshire-based business. Altogether there are four "unmanned ground vehicles" (UGVs) fitted with thermal imaging and motion detectors. The MoD says the robots are part of a range of mini-vehicles that could help give UK forces the edge on operations.
The Ministry of Defence has released pictures of new technology it is developing, or hopes to develop.
The images were released alongside the Defence Technology Plan, which sets out the MoD's long-term research needs. It aims to encourage tech companies and academics to come up with the next generation of flying, spying robots and new lightweight tanks.
Quentin Davies, minister for defence equipment and support, said exploit new technologies is "vital" for battlefield success.
View All Photo Stories