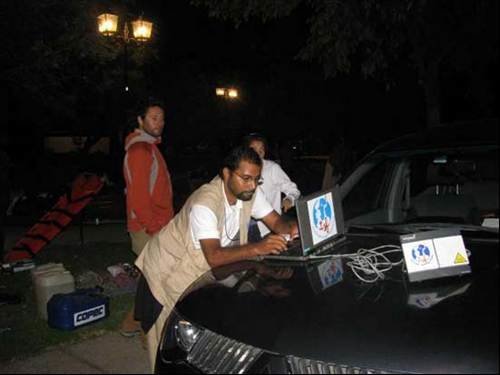 Source:
TSF
The role of technology in the Chile aid effort: Establishing an internet connection following the earthquake
The Télécoms Sans Frontières (TSF) team arrived in Santiago early in the morning on 1 March. Here a team member uses a beacon to establish an internet connection. These beacons are vital for TSF during the first hours of an emergency.
When a natural disaster strikes, one of the essential services that fail is the communications network.
Telecoms Sans Frontieres (TSF) is a key part of the operation to re-establish links between people and help aid agencies co-ordinate their efforts. Currently, its work in Chile is providing crucial support to those affected by the 8.8-magnitude earthquake that struck the country on 27 February 2010.
These pictures illustrate how technology is helping in the aid effort.