Worshipful Company of Information Technologists receives Royal Charter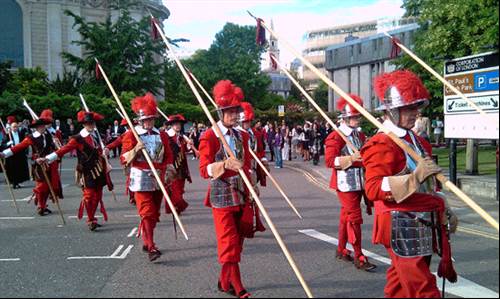 WCIT Royal Charter procession
Information technologists head through the City of London with the Royal Charter. The 750 members of the livery company raise money for a wide range of charities, including hospices for terminally ill children. WCIT volunteers work with the Lilian Baylis School, one of the worst performing schools in London. Member are also providing pro-bono IT advice to arts groups, ranging from small theatres to the Royal Opera House, and acting as mentors to young people and would-be entrepreneurs.
The Worshipful Company of Information Technologists (WCIT), the City of London's 100th livery company, celebrates its receipt of a Royal Charter.
WCIT has more than 750 members who volunteer their services to raise money for good causes. Prominent members include Microsoft founder Bill Gates, internet pioneer Vint Cerf, and Sir Tim Berners-Lee, creator of the world wide web. WCIT is supporting a range of charitable projects, including raising money to support an academy school in Hammersmith, London, that will be equipped with the latest technology.
View All Photo Stories