Photo review: Karmic Koala kickstarts new Ubuntu 9.10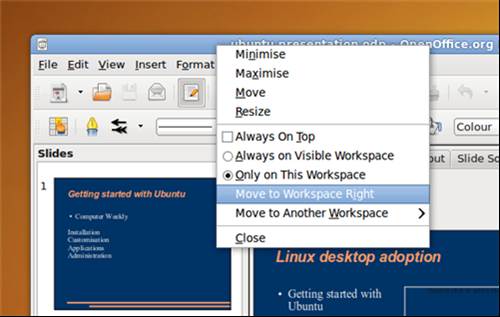 Workspaces - Review of Ubuntu Karmic Koala
Here is another feature to make Windows users envious: workspaces. Although not new in Karmic Koala, it is worth mentioning simply because it is so useful. Each workspace is like a separate desktop, and applications can appear on one workspace only, which is the norm, or on all of them. If the screen is a bit busy, you can right-click any window and choose Move to Another Workspace.

You can configure the number of workspaces available, and switch between them by clicking icons in the Workspace Switcher at bottom right, or by pressing keyboard shortcuts. If Compiz Desktop Cube is enabled, Ctrl-Alt-Arrow gives a rotating cube effect as it switches.
Ubuntu 9.10, also known as Karmic Koala, is taking on Microsoft's Windows 7. The Koala has a better software installer, faster boot times and much more. Here's our thorough review.
See also:
Photos: The 7 sins - Microsoft's worst inventions ever
Photos: The Dirty Dozen of Windows 7 - things that might bug you
View All Photo Stories