Photos: MoD demo latest in military information technology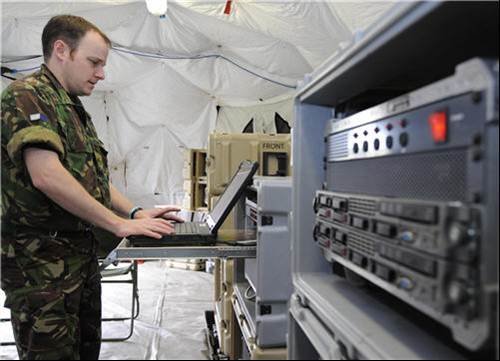 Containerised data centre - MoD demo latest in military information technology
This containerised data centre will supply the processing and networking needs for an entire army.
Each year the Ministry of Defence holds a week-long exhibition where suppliers can demonstrate the latest in military information technology.
This year, the Coalition Warrior Interoperability Demonstrator (CWID09) took as its model the supply of a hydroelectric turbine to the Kajaki dam in a remote part of Afghanistan under constant threat of attack.
This real-life incident from September 2008 involved some 5,000 British and Nato troops moving a £3.4m turbine 180km over five days using a convoy of 100 vehicles.
The parameters of the project were programmed into the war game as well as the actual results, so that officers could evaluate accurately the impact of new IT systems on events. It also allowed them to ask "what-if" questions that were based on real conditions to stress-test the new technology.
The demonstration was held at the MoD's weapons test centre at Porton Down in Hampshire. Although the site lacked the heat and dust of Helmand, in almost every other respect, the tents contained everything that one would expect to find in command centres at various levels in the Afghan theatre.
The results of the demonstration are used to evaluate the systems for possible purchase and integration with existing MoD systems, thus making interoperability one of the key criteria.
View All Photo Stories