In Depth :

Network software
Whether it's the IoT, cloud, mobility, big data or analytics, there is always something new to grapple with. Attendees found out how to keep up at Cisco Live in Las Vegas Continue Reading

Williams Martini Racing CIO Graeme Hackland discusses network infrastructure, data analytics and the future for wearable tech and augmented reality in Formula 1 motor racing Continue Reading

Communications services providers are lining up to make their future virtualised networks as open as possible. What's the attraction? Continue Reading
View All In Depth

Download this free guide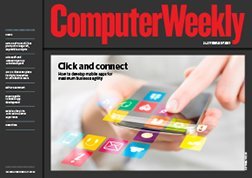 How to develop mobile apps for business
In this week's Computer Weekly, our latest buyer's guide examines the emerging innovations and best practice in mobile app development. We find out how Microsoft and Amazon are opening up their artificial intelligence tools to developers to expand take-up of the technology. And GE's CIO talks about the digital transformation of one of the world's ...
Blog Posts :

Network software
Almost three out of five CIOs we speak with today tell us that technology providers often seem to be pushing software defined networks (SDN) simply to sell hardware, writes Verizon's Peter Konings, ... Continue Reading

Hazelcast is an open source in-memory data grid with 500,000 installed nodes and over 16 million 'node starts' per month. The firm has now announced Hazelcast 3.7 which is claimed to be 30% faster ... Continue Reading

Basho Technologies has announced Intellicore's adoption of its Riak TS to power its Sports Data Management Platform, used by the FIA Formula E Championship to provide real time race analysis to its ... Continue Reading
View All Blog Posts
Opinion :

Network software
With reports suggesting some major changes may be afoot at EMC, Clive Longbottom looks at the reasons why Continue Reading

It's time to break out of reactive investment mode, says Dale Vile, research director at analyst group Freeform Dynamics Continue Reading

The main purpose of Apple's purchase of NeXT in the 1990s was to obtain the operating system that was to become today's OS X and iOS Continue Reading
View All Opinion
Videos :

Network software
Computer Weekly discusses the issue of BYOD and privacy with MobileIron and law firm Bircham Dyson Bell

Microsoft is using its Dutch headquarters as part of a radical experiment that the company believes could demonstrate the future of the workplace.

ComputerWeekly went along to the Get Ahead 2008 event and spoke to speakers from Star Internet, Microsoft and Armstrong Communications about their presentations.
View All Videos