Download this free guide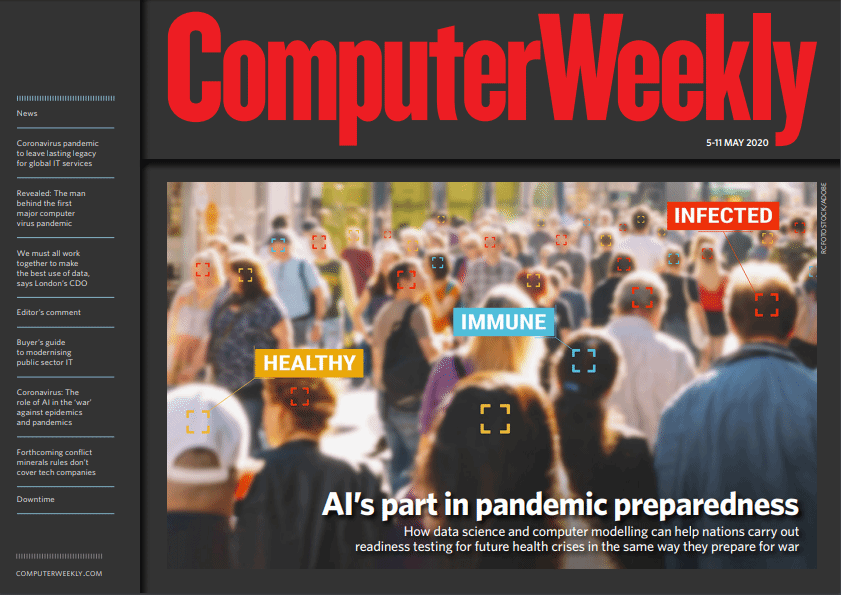 The role of AI in the war against pandemics
We look at how AI and data science are supporting the global push to deal with the coronavirus pandemic. We reveal, and talk to, the man behind the world's first computer virus pandemic, the Love Bug. And we examine how the IT services market will change as a result of the current crisis. Read this CW E-Zine issue now.
In Depth :

IT management
We look at five options for file access storage, from 'traditional' NAS in a standalone appliance to distributed hybrid cloud file storage and NAS cloud gateways Continue Reading

Artificial intelligence-powered security tools should enable IT security teams to achieve more with less Continue Reading

Despite the many changes in storage, there are still some fundamentals that hold true. We look at the key defining characteristics and use cases of block, file and object storage Continue Reading
Blog Posts :

IT management
If the experts are to be believed, quantum computers will radically change problem solving. IBM recently held  an event to explore the skills gap that exists between the education system and ... Continue Reading

July has been a busy month for us, a month that is traditionally dotted with enterprise tech events that have since been moved online amid the Covid-19 pandemic. On the sidelines of ... Continue Reading

Lancashire's Cronkshaw Fold Farm is pimping out its portfolio of goats for video-conference appearances to fund its investment in renewable technology. That's right, at just a fiver a pop, remote ... Continue Reading
Opinion :

IT management
Corporate leaders are turning to IT to build a digital future for their organisations – and CIOs can use their experience of pandemic-induced changes to build a new post-Covid strategy Continue Reading

Given the US' threatened actions against TikTok and the outcome of Schrems II, it is clear that the spotlight is now firmly on international data transfers Continue Reading

Technology has a strong role to play in the UK's recovery, with Rishi Sunak's Plan for Jobs offering opportunities for the sector Continue Reading
Videos :

IT management
In this video of Computer Weekly's annual diversity event Debbie Forster, CEO of the Tech Talent Charter, gives her acceptance speech as the 2019 Most Influential Woman in UK Tech

In this CW500 video, Jonathan Moreira, CTO of PrimaryBid.com, gives a fintech startup's perspective on the security challenges small businesses can face when adopting new technologies.

In this CW500 video, Paddy Francis, CTO, Airbus CyberSecurity shares his advice and experiences of keeping tabs on security when trying to introduce emerging digital technologies into large organisations.