UK data management and business intelligence conferences
Plan your training schedule with this list of UK data management and business intelligence conferences for 2011 and 2011.
Data management and business intelligence conferences 2011
Title: Confidentiality and Information Governance Conference
Description: This objective of this event is to provide professionals in the healthcare sector with an update on confidentiality and information governance policy and regulations. It also aims to look at the practicalities behind how to manage and share patient and service user identifiable data.
Location: Manchester Conference Centre
Dates: 16 September 2011
Web Site: http://www.healthcare-events.co.uk/confidentiality_information_governance
Contact Details: 020 8541 1399

Download this free guide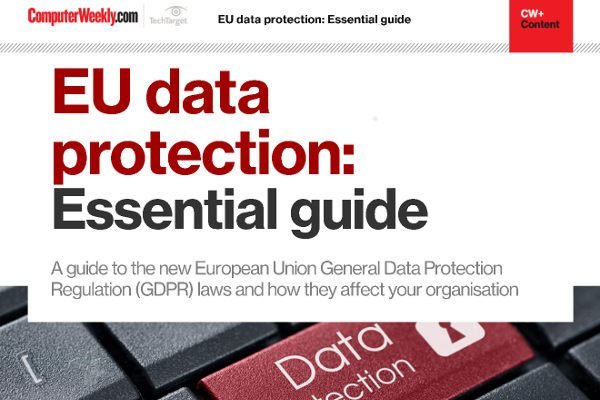 EU data protection: Essential guide
Access this guide to aid you in facing the challenges, opportunities and key actions need to consider in preparing your organisation for GDPR.
By submitting your personal information, you agree that TechTarget and its partners may contact you regarding relevant content, products and special offers.
You also agree that your personal information may be transferred and processed in the United States, and that you have read and agree to the Terms of Use and the Privacy Policy.

Title: Enterprise Information Management Exchange
Description: This event is strictly limited to senior executives with responsibility for developing and implementing enterprise information management strategies. Delegates customise their own itineraries to include conference sessions, interactive think tank discussions and one-to-one meetings with software and services providers.
Location: Chelsea Football Club, London
Dates: 10-11 October 2011
Web Site: http://www.eim-exchange.com/Event.aspx?id=482346
Contact Details: exchangeteam@iqpc.com or 020 7368 9484
Title: Conference on Information and Knowledge Management
Description: The event comprises keynote speeches, tutorials and workshops that are intended to give delegates an insight into new developments and trends in information retrieval, knowledge management, database technology and data mining.
Location: Crowne Plaza Hotel, Glasgow
Dates: 24-28 October 2011
Web Site: http://www.cikm2011.org/
Contact Details: questions@cikm2011.org or tweet @CIKM2011
Title: European Data Management, Information Quality and Data Warehouse & Business Intelligence Conferences
Description: The three conferences are located together at the same venue and key topics this year include Big Data, business semantics and social media. The data management portion will comprise 16 sessions and seven tutorials on subjects such as 'data management in a cloud computing environment' and 'data modelling for business information'. It will also include a keynote speech from Michael Gunton, executive producer of the BBC's Natural History Unit, who will give the low down on how the 10-part series 'Life' was filmed, edited, catalogued and managed.
Location: Radisson Blue Portman Hotel, London
Dates: 7-9 November 2011
Web Site: http://www.irmuk.co.uk/dm2011/index.cfm
Contact Details: customerservice@irmuk.co.uk or 020 8866 8366
Title: Financial Information Management Conference
Description: The event is expected to be attended by about 350 senior data managers from a range of financial institutions. They will have the option of listening to 70 or so speakers giving more than 50 case study presentations or participating in panel discussions. The aim is to provide the finance reference data community with insights into what constitutes a successful data management strategy by exploring everything from data quality to regulation and outsourcing.
Location: QEII Conference Centre, London
Dates: 8-10 November 2011
Web Site: http://www.wbresearch.com/fimaeurope/home.aspx
Contact Details: Sarah Bavister, Customer Service Manager – fima@wbr.co.uk or 020 7368 9465
Data management and business intelligence conferences 2012
Title: Gartner Business Intelligence Summit
Description: The Summit consists of analyst sessions, case study presentations, workshops, how-to clinics and roundtables. These are intended to help delegates understand business intelligence and performance market trends and dynamics and show them how theory can best be translated into practice in both areas. Hot topics include advanced analytics, mobile applications and security, data quality and integration.
Location: Park Plaza Hotel Westminster Bridge, London
Dates: 6-7 February 2012
Web Site: http://www.gartner.com/technology/summits/emea/business-intelligence/
Contact Details: emea.registration@gartner.com or 020 8879 2430
Title: Gartner Master Data Management Summit
Description: This event comprises analyst sessions, case study presentations, workshops, how-to clinics and roundtables. The aim is to help attendees develop a successful MDM programme and choose the right tools to support it. Hot topics include key industry trends, governance issues and evolving to multi-domain MDM.
Location: Park Plaza Hotel Westminster Bridge, London
Dates: 8-9 February 2012
Web Site: http://www.gartner.com/technology/summits/emea/data-management/index.jsp
Contact Details: emea.registration@gartner.com or 020 8879 2430
Title: Data Governance Conference Europe and Master Data Management Summit Europe
Description: The two conferences will be located together at the same venue and be practitioner rather than vendor- or analyst-led. Nearly 40 conference sessions will consist of expert panels, more than 20 case study presentations and best practice workshops.
Location: Radisson Blu Portman Hotel, London
Dates: 23-25 April 2012
Web Site: http://www.irmuk.co.uk/dg2012/
Contact Details: customerservice@irmuk.co.uk or 020 8866 8366
UK data management and conferences overview | Data management seminars