Thought for the day:IT sorcerers have lost their magic
Incisive columnist and IT expert Colin Beveridge looks at a hot issue of the day.Once upon a time, in a land far away, a wicked...
This Article Covers
RELATED TOPICS

Download this free guide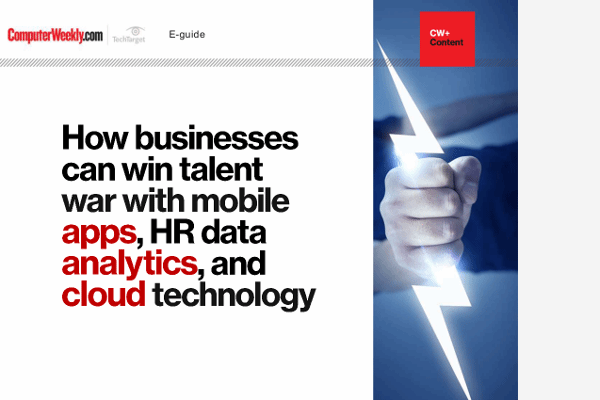 How businesses can win talent war with mobile apps, HR data analytics and cloud technology
Latest articles on HR best practices: mobile apps disrupting the annual staff appraisals; reasons for and against open-source software; and Rolls-Royce case study.
By submitting your personal information, you agree that TechTarget and its partners may contact you regarding relevant content, products and special offers.
You also agree that your personal information may be transferred and processed in the United States, and that you have read and agree to the Terms of Use and the Privacy Policy.

Incisive columnist and IT expert Colin Beveridge looks at a hot issue of the day.Once upon a time, in a land far away, a wicked sorcerer cast an evil spell on the emperor, telling him that he would never be truly happy unless he let the sorcerer run his empire for him.



The emperor was a very rich man, but the sorcerer promised him even greater wealth - beyond his wildest dreams, provided that the emperor spent most of his existing treasure on some marvellous new information systems.

The emperor knew little about such wizardry so he believed the sorcerer, gave him the keys to the treasury and waited eagerly for the new-found riches to come pouring back into the imperial coffers.

Well, I think we all know how that little fairy tale ended - the emperor lost most of his fortune and the sorcerer went away to cast his spell on other unsuspecting rulers, over and over again.

But that was then and this is now. The business world has changed over the past 12 months and the emperors are no longer willing to hand over their wealth to the technology sorcerers - hence the downturn.

Times are certainly hard for sorcerers and there will be no more money for technical mumbo-jumbo and magic until their customers start to see some real results for their past investments.

Of course, it is easy to blame the sorcerers for overselling their promises, by making unrealistic claims about the value of technology investment, possibly knowing that they would be unable to deliver the goods at the end of the day.

The IT industry is no shrinking violet when it comes to the application of hyperbole - we seem to promise so much but deliver so little, at least as far as our business emperors are concerned.

If we had delivered every benefit that we have promised over the past 20 years, our businesses would be so cash rich by now that it would be positively embarrassing to read the balance sheets.

Too often, though, our technology project proposals have relied too much on wishful thinking, and it looks like we have been finally found out.

There are various theories about when reality kicked in - some people cite suspicions that their massive financial outlays during the run-up to the millennium date rollover may have been deliberately oversold, while others reflect ruefully on the dotcom meltdown, which had been fuelled in the first place by unrealistic expectations oozing out of almost every boardroom in the country.

Whatever the reason, the upshot is that the sorcerers have lost the confidence of their emperors, which may be why we are starting to see more and more non-technical IT directors being appointed. Industry analysts see this to be a growing trend as companies focus less on the technology itself and more on their underlying business needs.

We have moved on from the old attitude of "we think we need to be doing something innovative with the Internet but we don't know what", to the present, more pragmatic, position of "how do we facilitate an agile business?"

I welcome this significant shift because it offers the best prospect of an eventual technology upturn. The trick, of course, will be to avoid falling back into our old habits of overselling and over-expecting.

Both the sorcerers and the emperors must be completely honest with each other - and the sorcerers must have the courage to speak out when they can see that the emperor has no clothes!

What is your view?

Has the IT industry adjusted to customer expectations? Tell us in an e-mail >> CW360.com reserves the right to edit and publish answers on the Web site. Please state if your answer is not for publication.

Colin Beveridge is an interim executive who has held top-level roles in IT strategy, development services and support. His travels along the blue-chip highway have taken him to a clutch of leading corporations, including Shell, BP, ICI, DHL and Powergen.
Read more on Business applications