Thought for the day: Seize the chance to lead
IT directors are uniquely placed to benefit business, says Michael Gough.

The single most important role for IT is in improving business processes and chief executives are looking to their CIOs for leadership, says Michael Gough.

Download this free guide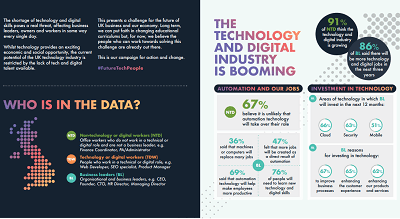 Infographic: Future-proofing UK technology
The current potential of the UK technology industry is restricted by the lack of tech and digital talent available. Read through this challenge for the future of UK business and our economy.
By submitting your personal information, you agree that TechTarget and its partners may contact you regarding relevant content, products and special offers.
You also agree that your personal information may be transferred and processed in the United States, and that you have read and agree to the Terms of Use and the Privacy Policy.


The future has never been so uncertain. Organisations today need to utilise all their assets - know-how, technology and people - if they are to compete.
We have had years of management initiatives: total quality management, "empowerment", ISO9000, business process re-engineering and, now, outsourcing. We have spent millions of pounds on IT systems, many of which have never been used, and still a chasm remains between planned and realised business improvement.

The role of the modern IT director or chief information officer involves juggling the demands of being a strategic innovator; change leader; senior management coach; operations manager; technology expert; chief of staff and supplier manager. But those who master the art are in a unique position to influence, direct and lead their organisation.

No matter what the business says, one thing is certain: IT really matters. Practically every business or household transaction or pastime involves IT. However, for better or worse, if as users we don't shape technology to our needs, then technology and its acolytes in the supplier community will shape us!

Better business processes

The single most important role for IT is in improving business processes and chief executives are looking to their CIOs for leadership. This has nothing to do with empowerment: it is about vision, responsibility and persistence; and about individuals and the choices they make. IT people know the processes and systems in their organisation, so they are uniquely qualified to help to deliver their organisation's business.

IT investment remains fairly flat at present. However, UK plc will spend about £65bn this year. Most CIOs expect the approval process for IT to be the same as any other business project, but demands for short-term return on investment can put projects at risk.

Improving processes through systems integration and short, sharp, business-driven projects can add significant advantages. Where the business views IT as a cost rather than a benefit, CIOs have to decide on cost or competency.

Many organisations, which are driven by risk aversion and an unhealthy fascination with benchmarking, have outsourced too much. Their ability to create a competitive edge through business applications is in danger of being lost. With a focus on systems integration and application development, UK companies can be at the heart of a re-energised IT industry. This will be essential if the UK is to be a leading knowledge economy and have a positive impact on the IT labour market and prospects for UK graduates.

Liberate the innovators

Large organisations have valid and well-established strategies on platform standardisation and supplier rationalisation. However, proprietary solutions are stifling business innovation. If it were left to the suppliers, the only innovation around would be with their products. IT directors have to balance the drive for cost management through standardisation with flexibility and choice enabled by open standards.

The business is waking up to the need to improve change management. The IT industry is so close to the process of change that it may well have escaped its notice that our business colleagues are inexperienced at managing change. They know about markets, profit, loss and stake-holder value, but changing an operation from one state to another is something they don't know how to do.

It is not surprising that for many chief executives the CIO is the first port of call for change leadership, because this is where the project and change management competency most often lies. This is a great opportunity for CIOs as long as they can communicate with the business in the language of profit and loss, balance sheets and financial management.

It is pleasing to see boards being more IT-literate but things will only get better when IT is at the heart of business and not sidelined as a necessary evil. When this happens the misconception and under-valuing of IT's contribution will be redressed. IT will no longer be blamed for the failure of business-change projects and programmes - as the IT industry's own media often portrays it - but unquestionably viewed as a benefit and not a cost.

Michael Gough is chief executive of the National Computing Centre
Read more on Managing IT and business issues