Ciao to IT director, hello to CIO


David Taylor
Inside track
The time is right for a new type of IT leader to emerge
In business and IT terms, the...
David Taylor
Inside track
The time is right for a new type of IT leader to emerge
In business and IT terms, the first few years of the third millennium will be remembered as the coming of the Cs. They are all over the place, not just on newly printed business cards. There are conferences, academic papers and writings galore.

Download this free guide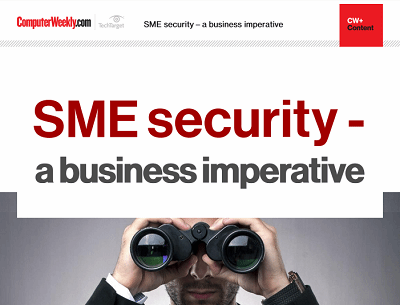 The secret to winning - SMEs and cyber security
50% of SMEs plan to spend less than £1000 on cyber defenses in the next year and only 42% of SMEs are concerned about ransomware. Anyone see a problem? Computer Weekly outlines some solutions to this growing naive trend.
By submitting your personal information, you agree that TechTarget and its partners may contact you regarding relevant content, products and special offers.
You also agree that your personal information may be transferred and processed in the United States, and that you have read and agree to the Terms of Use and the Privacy Policy.
We have CEO, COO, CFO etc., and in IT we have CIO, CTO, CKO and even CCO!
The C and O remain the same - C for chief, O for officer. It is the middle name that counts for everything!
In the above list, for example, we have executive, operating, financial, information, technology, knowledge and change (I have also heard of a CCO being a chief communications officer).
Our main interest today is the CIO - the new, growing term slowly replacing IT director. However, regarding the others, this is what they mean to me:
CEO - managing director, the person in charge

COO - the guy that does all the work, day to day, and takes the blame for everything

CFO - posh new name for financial directors, same job as it always was

CTO - a new technology role for technology people, largely in dot coms, but also found in larger companies. Some IT directors are becoming CTOs

CKO - A meaningless title If you are called this watch out - you are effectively on sabbatical!

CCO - if this means change be warned - no one person can be held responsible for all change in any company. If this means communication be even more warned, no one person can be accountable for all communications. In either case, watch your back!

Regarding CIO, a term more prevalent in the US, there is a joke that it stands for career is over. The sad element of this is that it originates from IT directors themselves, which says something about how we see ourselves!

Although many people say that the title does not matter, more companies are now using the term CIO to distinguish a new type of role from the traditional IT director.

Geest, the leading producer of fresh-food, for example, deliberately advertised in the Sunday Times for a CIO, rather than IT director, to highlight the business, information, change and leadership elements of the role, and to lessen the technology element.

In my opinion, the CIO will become the default term for a new type of IT leader. The watershed timing for our industry is right to create and establish a new role. One that puts behind us the technology, for the sake of it, and recognises that a track record inside an IT department may not be the most effective training ground for business/information/people leadership.

The CIO title is an opportunity to create a new, business, board-level role, that focuses on the provision of timely and effective information, on transforming technology into real wealth for an organisation and on placing IT at the very heart of a company.

Overall, IT leaders are well poised for the future - it is on our side.

However, more important than your title, is your personality, talents and aspirations. Titles are useful for business cards, however, and three letters of any description save so much valuable space.

David Taylor's Inside Track, a provocative insight into the world of IT in business, is out now. It is published by ButterworthHeinemann Tel: 01865-88180
Read more on IT for small and medium-sized enterprises (SME)