Are web services the answer to integrating mobile devices into corporate systems?
Web services could provide a cost-effective way of distributing corporate data.

Download this free guide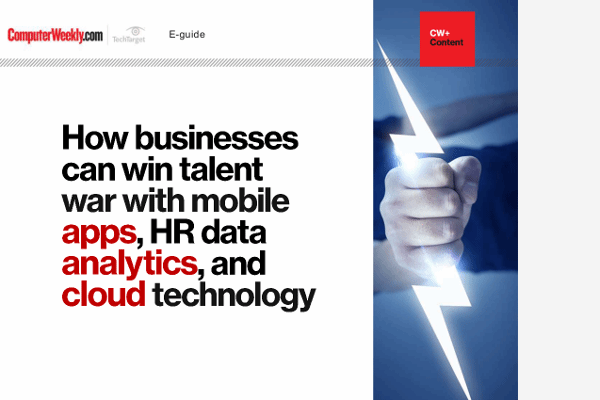 How businesses can win talent war with mobile apps, HR data analytics and cloud technology
Latest articles on HR best practices: mobile apps disrupting the annual staff appraisals; reasons for and against open-source software; and Rolls-Royce case study.
By submitting your personal information, you agree that TechTarget and its partners may contact you regarding relevant content, products and special offers.
You also agree that your personal information may be transferred and processed in the United States, and that you have read and agree to the Terms of Use and the Privacy Policy.

Web services could provide a cost-effective way of distributing corporate data.



A growing problem facing IT managers is how to integrate wireless applications and the wide variety of mobile devices into corporate systems. Web services technology could provide a way of doing this without blowing the IT budget on complex and costly integration projects.

Microsoft and Vodafone are working together on mobile web services that would enable developers and users to take advantage of wireless applications. In a keynote presentation at the ITU Telecom World show last autumn, Bill Gates and Vodafone chief executive Ian Maxwell, outlined an initiative for defining technology specifications to allow developers to exploit mobile web services using standards-based tools and techniques.

The two hope the industry as a whole will adopt a services-based approach to IT/telecoms integration. This will bring about a convergence between the PC and mobile worlds. Issues that need to be addressed include how to integrate GSM-based security with web services architecture; ensuring the availability of location information; and the assimilation of messaging and payment protocols within the web services framework.

Mobile web services enable the user to take advantage of wireless applications, such as mobile messaging, location-based services and user authentication, from any type of device.

This can be achieved by using an XML-based web services architecture, allowing developers to build new, innovative services across both fixed and wireless networks. Microsoft and Vodafone hope to encourage developers by providing the commercial opportunity and framework to allow them to build these convergent services.

Industry standards in communication technologies will enable the evolution of an environment where applications can be quickly integrated with communication services in a "plug-and-play" manner.

The main requirements for many mobile enterprise users are ease of use and agility, which can be facilitated by the use of mobile web services.

Challenges remain with using web services, such as security and management, but in the mobile environment performance considerations are paramount. In some circumstances this could make the technology an inappropriate choice.

For instance, the discovery and negotiation required to identify and acquire a service can add a significant overhead at the beginning of a transaction. This can be exacerbated by the limited amount of bandwidth usually available to wireless applications and the minimal memory and processing power in some mobile devices.

In addition, using XML increases the amount of data transferred between the server and the device because the XML code needs to be translated. However, with 3G services now available and handsets becoming more powerful, these operational issues should not be as restrictive as in the past.

The Mobile Web Services Technical Roadmap published by Microsoft and Vodafone last autumn outlines the direction that the companies believe mobile web services should take. The roadmap details a framework around which a web services approach can be adopted, allowing the deployment of new services and products capable of bridging the gap between corporate IT and mobile environments.

Initially, a specification will be developed that includes SMS, Multimedia Messaging Service and location-based services. It will also aim to optimise the core web services protocols for the resource-constrained mobile environment.

Despite Microsoft and Vodafone's stated aim of creating an industry standard, there is some scepticism on the part of other suppliers, which believe the partners are looking to gain competitive advantage from this initiative.

However, mobile web services, and to a lesser extent web services as a whole, are at an early stage in development and sometimes it needs a small number of evangelist organisations to drive the formulation of industry standards. Although the objective of convergence between the mobile and traditional IT environments is a laudable one, it will not be achieved unless all interested parties and standards bodies are involved in the process.

Microsoft and Vodafone are not alone in promoting mobile web services. IBM's web services toolkit for mobile devices enables the development of applications for mobile devices, gateway devices, and intelligent controllers using a web services architecture.

IBM's Websphere Studio Device Developer (WSDD) includes support for the JSR172 J2ME runtime environment, which has been optimised for mobile devices. Using WSDD, it is possible to develop, implement, maintain and monitor applications that use web services on mobile and gateway devices.

PalmSource, in partnership with IBM, also offers a web services toolkit for mobile devices. It provides tools and a run-time environment that enable developers to create applications that exploit web services on the Palm OS platform.

In the PalmSource implementation a number of functions control Simple Object Access Protocol (Soap) messages. Soap interoperability is accomplished with an API, hiding the Soap details from the developer and allowing most of their time to be spent on the important business logic.

It should be noted that the current release of the toolkit is for evaluation purposes only and may not be implemented in the same way in future releases of Palm OS.

Other mobile web services initiatives include Sun's Javafirst project to make web services available on mobile devices, and Symbian's Action Engine mobile web services platform, targeted at mobile network operators and enterprise customers, which aims to exploit the latest smartphone capability.

The Dexterra Mobility Platform, which provides a foundation for field worker services, has been developed using web services as a core technology, along with Microsoft .net. This enables non-intrusive integration with existing systems and compatibility with any type of IT infrastructure or device.

The majority of current web services deployments focus on integrating existing systems and wrapping of legacy applications to form standardised components, thereby maximising existing infrastructure investments. Another important aspect of web services, as yet not fully realised, is to communicate data as useful information to all enterprise stakeholders.

The use of web services in this way looks equal to the challenge of providing mobile knowledge distribution.

Mark Blowers is senior research analyst at Butler Group

www.butlergroup.com
Read more on Web software