Business intelligence and analytics
In Depth :

Business intelligence and analytics
One clothing manufacturer found out that today's BI reports can be produced with a minimum of ETL and other processes that have traditionally slowed down BI. Continue Reading

Expense management is one area of business where the application of IT can bring about double-digit cost reductions Continue Reading

Whether it's the IoT, cloud, mobility, big data or analytics, there is always something new to grapple with. At Cisco Live in Las Vegas attendees found out how to keep up Continue Reading
View All In Depth

Download this free guide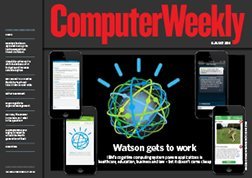 IBM's Watson gets to work
In this issue we explore the many ways IBM's Watson has evolved from the machine that bettered humans in US game show Jeopardy! to providing deep analytical insights to solve real-world crises. We also look at how Barclays bank is using DevOps to remain competitive and reveal new research that illustrates why cloud computing is at the heart of ...
Blog Posts :

Business intelligence and analytics
As a football fan, it's not often I get to indulge in a bit of technology-football crossover, but the Leicester City fairytale is too good an opportunity to miss. It seems it's also a story that ... Continue Reading
View All Blog Posts
Opinion :

Business intelligence and analytics
Could the UK become a a safe place for both cloud and big data after it leaves the EU? Continue Reading

With enterprise interest in graph databases on the rise, Clive Longbottom explains why some businesses are favouring them over relational setups Continue Reading

Accenture Digital consultants say businesses can be more agile by way of cloud-based analytics Continue Reading
View All Opinion
Videos :

Business intelligence and analytics
SAS consultant and author Jill Dyché discusses how self-service BI and business control of systems affect IT teams and details a novel approach to IT buying that may ease push-pull issues.

Brian Gentile, general manager for Tibco's analytics business, believes BI needs self service combined with agent technology

In this video Dave Ubachs, European CIO of Staples discusses the opportunities around big data and analytics, how can the CIO can drive value. He outlines why data visualisation and analytics are great opportunities for IT to move up the value chain, and how smart IT people can become data scientists and why are they are uniquely equipped to do so.
View All Videos