nikkytok - Fotolia
HP Inc lays the foundations for a digital future
Following HP's split on 1 November 2015, how will the printer and PC components of the business define the future of HP Inc?
Historically, manuscripts were handwritten and copied by hand, but around 1440 Johannes Gutenberg created a printing press which commoditised the distribution of books.
HP Inc is hoping to build on its success in the printing business, a modern interpretation of the Gutenberg Press which began with the introduction of the laserjet 35 years ago, and fuel another printing revolution.
Shane Wall, CTO and head of HP Labs at HP Inc, has a chance to shape this revolution, at least from an HP Inc perspective. Wall started at HP in 1985, before founding a startup in the mid-1990s. He then spent 14 years at Intel, where he was responsible for ventures and investments at Intel Capital and ran Intel Labs, before rejoining HP.
As Wall points out, HP Inc has two large, mature businesses in the printing and personal systems (PC) divisions of HP. One part is hugely successful: HP Inc can quite literally print money thanks to the growth in consumables. But the PC business posted a 13% decline in revenue for the third quarter of 2015, and analyst IDC has forecast a continued decline in the PC market through to 2019.
The challenge is how to create new growth opportunities.
Despite its personal systems business being affected by the decline in demand for PCs, Wall is confident it will bounce back. This will not necessarily come from competing by selling new revisions of PCs, laptops, tablets or hybrid devices. Rather, he predicts completely new ways of using a PC that cannot simply be copied and mass-produced by rival manufacturers.
The HP split will also see HP Labs become two separate operations. "We are splitting the labs as part of the separation," says Wall. "The portion that worked mainly on printing and personal systems moves to HP Inc, and the other portion moves over to Hewlett Packard Enterprise."
Innovations in ink
HP Inc plans to extend its current printer business through a range of cost-saving initiatives.
One of these is its Instant Ink service, which is designed to reduce the cost of ink using a subscription model that allows businesses to rely on their internet-connected printer to tell HP when replacement ink is required. The ink is delivered on-demand and at a lower cost than purchasing cartridges when they run low, according to Wall.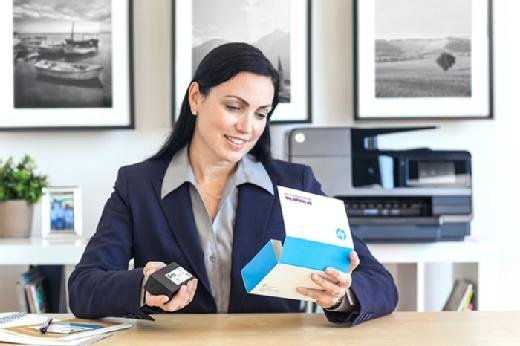 HP's inkjet business has grown by 18% in the past year. In contrast, its laserjet business has experienced just 3% growth. The question is, why offer businesses ink cartridge printing – a market HP has traditionally dominated with its laser printers?
"The value proposition allows us to lower the cost significantly, so you have the paper handling and flexibility of the laserjet at a substantially lower cost per page," says Wall.
This also means HP Inc is able to offer the functionality of its multifunction OfficeJet laser printer family, which prints, scans, copies and faxes, on an inkjet device.
"Inkjets also allow us to enter the A3 copier market," Wall adds. The company has 40% market share in the printer market, but its share of the photocopier market is only 3%. "Copiers represent a huge growth opportunity for us," he says.
Spicing up the PC
People are not upgrading as often as they used to. The question is how to increase the PC's appeal. "When we look at the short term, the PC is obviously in transition and will stay in transition. There is short-term drag, but it will lead to long-term opportunities," says Wall.
In the case of Microsoft Windows 10, he says: "Long term, Windows 10 will be a fantastic operating system and will open up a new set of opportunities for us, which leads to workflows and vertical solutions in the enterprise." This will build on convertible tablet PCs, such as HP's x360 device which works as a tablet or laptopr.
Sprout is another device HP Inc is pushing. "Sprout is a platform. It is not just a new PC; it is an immersive computing experience," says Wall. "You can use Sprout for interactive modelling in the maker community or for communication."
The device has a touchscreen, a 3D scanner and a desk touchpad, which also works as a display with images can be projected onto it. The device has its own user interface and set of applications, although the current version runs Windows 8.
This first implementation is focused on graphic design for the home community. There will be a second version for professional graphic artists. Other versions will follow for the healthcare and automotive industries.
Wall claims Sprout is the most disruptive PC platform to come out in a decade. The reason, he says, is because it is at the heart of HP Inc's mid- to long-term vision around a blended reality.
Disruptive future blends
As the company's CTO, Wall has both eyes set on the future. Putting inkjets in the enterprise and Sprout on desks represents the short-term view, but what are his plans for HP Inc over the next few years?
"The one trend we look at it is the collision between our digital reality and our physical reality," he says. HP Inc's terminology is "blending the physical and digital world". One example Wall gives is the use of a Fitbit wearable device to track people's health digitally, which can then be used to create an exercise programme to make the user healthier in the physical world. Another example is the Sprout PC, which allows the user to take a physical object, scan it into digital form, manipulate it in the digital domain and print out the finished product in 3D.
Read more about the HP split
Printing in 3D is at the heart of HP Inc's mid- to long-term strategy around the concept of blended reality. According to Wall, 3D transformation is the next industrial revolution. "If you look back at the past 150 years of society, it was all built on the industrial revolution," he says. "In manufacturing, I would stage in raw materials and run them through low-cost manufacturing and then send the products through distribution. Throw in some good marketing and a salesforce and you describe every manufacturing company known to mankind. Twinkies, tablets, Toyotas – they all use the same process."
Wall believes this well-trodden industrial process will be revolutionised over the next 15 to 20 years. "What will turn manufacturing on its head are two fundamental principles: First the democratisation of design to simplify the design process and, second, 3D printing."
Design tools for 3D are generally quite complex and require training. The people who use AutoCAD tend to be professional designers. Democratisation of design for Wall would mean that if a consumer wanted a new case for a mobile phone, she would go online and search for a design, download the design, personalise it using a device like Sprout with simple tools, then print it out. "I have just disrupted the manufacturing chain. This is the whole reason we built Sprout and why we do 3D printing."
In the professional market, Wall believes that rather than keeping spare parts for 10 years, a 3D printer would enable car manufacturers to pick components from a professional 3D computer-aided design (CAD) tool like AutoCAD and print the replacement part on-demand.
The PC is in transition. There is short-term drag, but it will lead to long-term opportunities

Shane Wall, HP Inc
HP Inc's first 3D printing product, called MultiJet Fusion, is due out in autumn 2016. Initially, it will print plastics, but future versions will support polymers and metals with different properties, according to Wall.
Initially, he expects 3D printing to be used in low-volume manufacturing and for the creation of unique designs for car and aircraft construction. "Rolls-Royce uses 3D printing for sections of its jet engines," he says.
This is the era of digital manufacturing. Unlike in traditional "analogue" manufacturing, where a component is designed then mass produced, Wall says: "In digital manufacturing, I know exactly the digital image of a component. I can do different revisions as is typical in software development today. It can be updated and I can uniquely encode a watermark to track the physical item." Each revision can be output to a 3D printer.
Digitisation of manufacturing
Gutenberg challenged the established way of producing manuscripts, and it took just a few decades for the Gutenberg press to expand from a single shop to hundreds. The idea of printing 3D components on-demand from a vast software library similarly goes against almost everything that has built modern society.
But, as Gartner distinguished analyst Steve Prentice notes, businesses that do not change go out of business eventually. It is hard to imagine how manufacturing plants will eventually disappear, but who would ever have predicted that a taxi firm could exist without owning any cars, or that the world's largest hotel chain owns no hotels?
So there is no reason to conclude that HP Inc's idea of a 3D printing revolution is bonkers. It certainly goes against conventional wisdom, but the company is betting its future on changing the face of manufacturing for a digital era.