Will 3G learn from Wap's mistakes?
Operators paid the price for hyping Wap, but there is still money in m-commerce.
Operators paid the price for hyping Wap, but there is still money in m-commerce.
Steve Rogerson
One would be hard pressed to pick a worse harbinger for a new era in technology than Wap. As the mobile operators screamed "Internet on your handsets", what the users ended up with was a small screen giving limited pages very slowly, that is if they could make a connection at all. Yet from these humble beginnings, Wap is seen by industry pundits as the forerunner for the explosion of m-commerce.

Download this free guide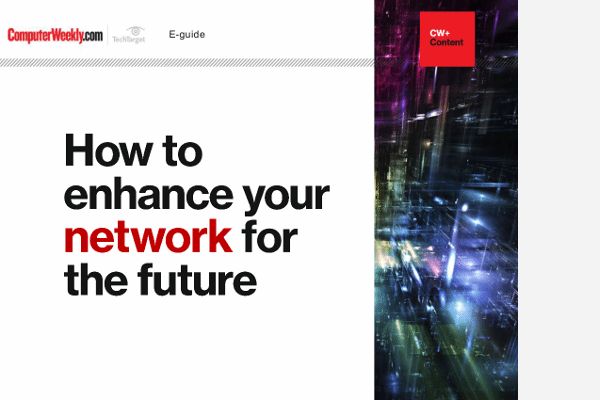 How to enhance your network for the future
Latest on networking developments and directions: NFV, self-optimising networks and IoT enabled smart cities
By submitting your personal information, you agree that TechTarget and its partners may contact you regarding relevant content, products and special offers.
You also agree that your personal information may be transferred and processed in the United States, and that you have read and agree to the Terms of Use and the Privacy Policy.
The apparent paradox comes from the decision to launch a service before the technology was ready and then hype up people's expectations to a level where they were certain to be dashed, and dashed heavily. Some mobile operators already realise that mistakes were made in Wap's early days.
"If you read the media coverage, you might think Wap is useless," said One2One spokesman Mark Hiley. "But there was a lot of hype with Wap. Many expectations were raised too high. You can't get the same Internet experience on your phone as on a PC."
As to the technology, that is about to change as the operators roll out their packet switched networks next year. Known as GPRS (General Packet Radio Services), these networks use the same basic infrastructure as the existing GSM (Global System for Mobile Communication) but can offer massive increases in speed. And there will be virtually no log-on time - the phone is always on and connected to the network.
Of the UK's four operators, BT Cellnet has got the early lead, with a limited GPRS service available to business users today, but the other three are set to be there within the first half of 2001.
This will be followed soon after with UMTS (Universal Mobile Telephone System), the so-called 3G, or third generation, mobile system that caused such a furore in the telecoms industry when the auction for the five licences spiralled out of control.
Although initial predictions were for this to be launched in early 2002, the operators are now looking at late 2002 at the earliest, with 2003 being the most likely.
Operators are also being a tad cagey about exactly what speeds will be available with GPRS and UMTS - both depend on the number of users sharing the bandwidth simultaneously - but they will provide speeds that could rival typical fixed links today. It is this speed that opens up new applications and the opportunity for trading over mobile phones, otherwise know as m-commerce.
Ian Harwood, business alliance manager at Vodafone, defined m-commerce as "a commercial transaction in the wireless world over and above just ringing up and ordering something".
To capitalise on this, mobile operators and banks are already rushing into bed with each other. One of the most recent and probably the most significant marriages was between Barclays and Vodafone, which promises to offer mobile Internet banking, stockbroking and Barclaycard account management services on Wap phones by the end of the year.
The end of the year is significant, as Steve Walker, UMTS marketing director for Ericsson, explained. "By then, we will have Wap v1.2.1, which will provide end-to-end security to support m-commerce applications. At the beginning of next year, we will have GPRS, which is a lot more suitable for the bursts of information you get with m-commerce. The technology enablers are starting to fall into place."
The problem today, he said, was that the market was not yet ready for m-commerce.
Mobile banking
"As banks and traders get their hands on the technology, they will push the applications into the market. But the pull in the market doesn't exist yet. People have lived without mobile banking, but, when they see the benefit, there will be the pull," said Walker.
It will not replace going to see the bank manager, and many will still regulate their bank accounts on desktop computers, but it will let them make quick checks on their balance and make purchases in a similar way to what people are doing on the Internet today. And then there's the cinema.
The name of the person who first came up with the idea of a cinema application for high-speed mobile phones is probably lost in history, but it is the application that all the operators and the equipment providers have jumped on as best illustrating the technology's potential.
The story goes like this. A punter wants to go to the cinema but doesn't know what to see. So they accesses the cinema's Wap site from a mobile phone and get a list of films and times. If still unsure, trailers of films can be downloaded to the handset - something that in theory can be done in seconds with UMTS.
Once the film has been picked, the movie goer sees a map of free seats, picks one and buys the ticket over the phone on the way to the cinema. Once there, there is no queuing to pick up the ticket as a wireless link, using Bluetooth or some similar technology, recognises the mobile phone and allows access.
Location services
Another technology enabler will be location services. This is where the network can pinpoint mobile users more accurately than just by the cell they are in. Some use signal strengths and angles from multiple cells, others GPS (Global Positioning System). The driving force behind developing such technology has been US legal requirements for the emergency and police service, but business has been quick to see the potential.
Possible applications include finding the nearest cash machine or lists of local restaurants, cinemas, hotels, taxis and so on. This has obvious advertising revenue potential for the operator. There is even talk of subsidised phone bills for those willing to hear an advert every time they make a call.
Also being developed are vending machines with a phone number on the front. Rather than inserting money, a customer calls the number, orders the can of drink or packet of cigarettes, the machine then delivers the goods and the money is added onto the phone bill or deducted from the prepaid voucher.
Theft
However, this brings with it security problems. Mobile phones are very easy to steal because of they way they are used - as they have to be retrieved from a pocket or bag quickly and easily when they ring, a thief can do the same.
If a phone has the ability to make serious purchases, users won't want to key in credit card numbers each time they buy, so these have to be stored either in the phone or on the network. This would make phones even more attractive to steal.
Operators are working on digital signatures and other security measures to verify access. And they know that if they don't they could face a marketing disaster just as bad as the Wap one they are now trying to recover from.
Read more on Wireless networking