Benefit from customer data integration (CDI) on cloud platform
Customer data integration (CDI) on cloud platform appears can be an efficient, cost effective option. Discover what it can do for you.
Customer data integration (CDI) is essential for organizations to manage customer data for sustainable growth. CDI as a strategy systematizes a 3600 view by aggregating and analyzing multiple sources of information into a single customer view (SCV) system.
Customer data integration is central for almost all multidimensional master data management (MDM) platforms. As the hype surrounding cloud computing and cloud CRM systems increases, the advantages of cloud platforms for CDI/ MDM would be explored by enterprises.
Cloud platform supporting enterprise apps:
Cloud application systems reduce CapEx, bring predictability to OpEx, and offer flexibility. Customer data integration on the cloud platform is gaining popularity with CDI vendors suiting their applications to cloud environment(s).
Different cloud CDI implementation methods:
There are three approaches of implementing customer data integration on the cloud platform to create an SCV:
1. Implementing CDI on public cloud platform
In this all source application systems are extracted, standardized, integrated, cleansed, and loaded to a cloud CDI system using its data integration capabilities. The cloud CDI platform connects with a source application system through native connectors or service oriented architecture (SOA). The integrated customer data system is available over the public internet rather than corporate LAN/ intranet.
Customer data integration on public cloud platform can guarantees a certain level of service to users. But there can be a risk of outage.
2. Private cloud platform for customer data integration
In this case a dedicated private network is used to connect with a dedicated server of CDI. This server is connected to a private, secure network or a virtual private network (VPN). Users have greater control, access to more features, but need to pay a premium for the additional security, manageability, and reliability.
3. Hybrid CDI implementation
The customer information may be split into two parts and stored in two CDI environments for the real time and the off line applications separately. The public cloud platform CDI part offers a certain level of security and reliability, but the private one assures greater comfort. A high level architecture of a hybrid cloud CDI system is shown in the figure.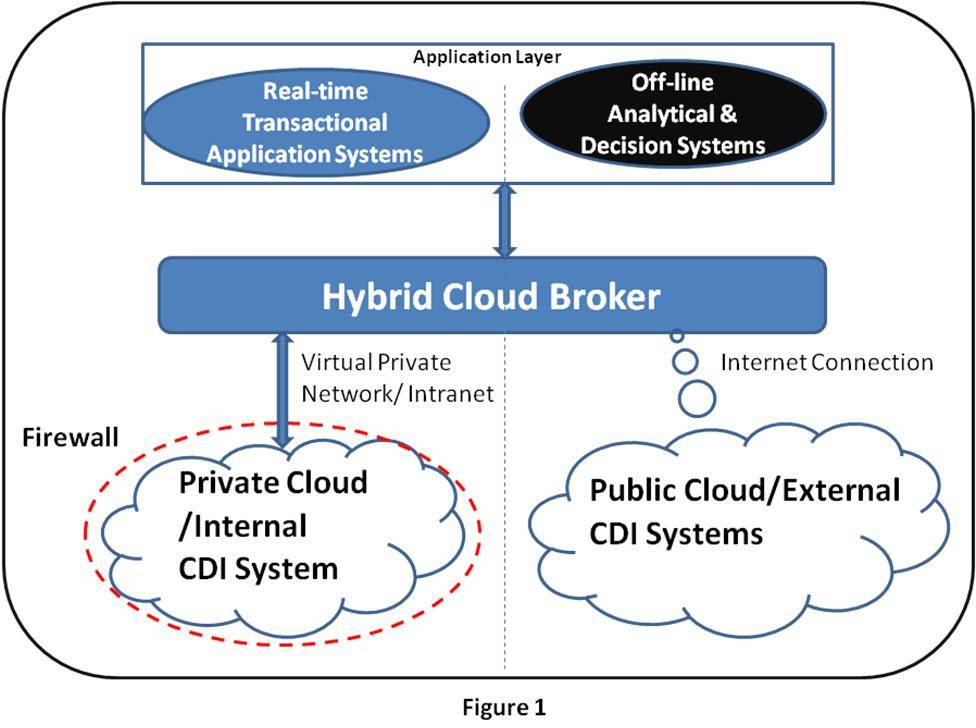 Figure: Hybrid cloud CDI system
Challenges of customer data integration on cloud platform
A cloud CDI platform should be mainly evaluated against:
Availability: The average availability of the best public cloud CDI platform is 99.95% across all the five minutes intervals in a month. In the worst case scenario, a lack of availability can go to 40 minutes in a month. This is a couple of orders away from the expected availability of a CDI system for a financial application where CDI systems are used for customer reference and they are required to be available at an average of 99.999%. Customer data integration on a hybrid cloud platform can help overcome this challenge. The customer information that needs high availability should be stored in the private cloud CDI and the customer data for off-line analysis can be implemented in the public cloud platform CDI.
Data security and privacy: Security and privacy of the customer information are major concerns from a compliance perspective. The notion is that a cloud platform CDI service provider will have more security expertise than a typical small business. However, it is advisable to investigate the policies of data security, data privacy and data purging from the cloud system before agreeing to a contract.
Reliability of connection: The reliability of the public cloud CDI platform at the time of execution of a transaction is critical but hard to ascertain due to its massive-scale service sharing, WAN connection and complicated interactions between transactional business application and the CDI system. Hence, the reliability measures for pure software/ hardware or conventional networks cannot be applied to ensure the cloud platform CDI's reliability.
Market trends
With advent of cloud data integration platforms, such as Informatica Cloud Express, Queplix CloudETL, Force.com, and Pervasive, most of the CDI/ MDM vendors have either already launched or are in the process of launching their cloud platform options.
The present user base of the cloud platform CDI consists mostly of the SMBs that can tolerate availability limitations. But vendors continue to improve their products with respect to the real-world security, data privacy, and expected reliability and availability of the cloud platforms. It is expected that the large businesses will be attracted to the public cloud platform CDI for their strategic enterprise-level initiatives as cloud solutions mature in terms of security and platform reliability.
---

About the Author: Dr. Pramod Singh is a senior manager in the information management practice at Accenture. Dr. Singh has 20+ years of IT experience. He holds doctorate in data mining from the University of New South Wales, Australia.