The IT challenges of building Heathrow's Terminal 2
Neil Clark, CIO of Heathrow, reveals the IT challenges behind the airport's futuristic Terminal 2 building
Terminal 2 is a far cry from the dark claustrophobic corridors often associated with Britain's biggest airport.
Continue Reading This Article
Enjoy this article as well as all of our content, including E-Guides, news, tips and more.
The Norman Forster-designed building is still a building site, but already it looks impressive, with its distinctive undulating roof, natural light and a feeling of space.
By 2014, the £2.5bn terminal, future home of the Star Alliance of airlines, will deliver 20 million passengers a year, with a degree of comfort worthy of an international "hub" airport. Its satellite, Terminal 2B, will have capacity for another 10 million.
Technology underpins the whole project. Heathrow is spending more than £200m on IT and network infrastructure, designed to speed passengers through the airport as quickly and comfortably as possible.
The terminal will eventually feature automatic baggage drops and check-ins, boarding passes delivered to passengers' mobile phones, free Wi-Fi for passengers, and CCTV systems that will automatically scan for queues.
To make all of this possible Heathrow is installing more than 2,000km of network cable, 30km of radio cable, 12,000 CCTV cameras, 59 large communications rooms holding servers and networking equipment, and 30,000 network points.
Neil Clark, CIO of Heathrow, formerly known as BAA, is responsible for making sure the equipment is in place and working by 2014.
Clark became CIO four months ago, taking over from Philip Langsdale, who moved on to the Department for Work and Pensions as director general of IT.
"One of the biggest challenges is that we are building the terminal in the middle of a live runway operation in the heart of the airport," he says.
If we want to have a fully automated journey, we need to crack the biometric technology

Neil Clark, CIO, BAA
That poses some logistical challenges. Building work near the runway, for example, is limited to a three or four-hour window in the early hours of the morning when there are no planes flying out of Heathrow.
Removing the live communications infrastructure from Heathrow's soon-to-be-demolished control tower was a particular challenge, says Clark.
It took a year-and-a-half for engineers to identify each piece of equipment and take it out, without disrupting the network.
"It was very difficult because the technology has been in there for decades," he says. "The old tower had asbestos in it, so that was another challenge."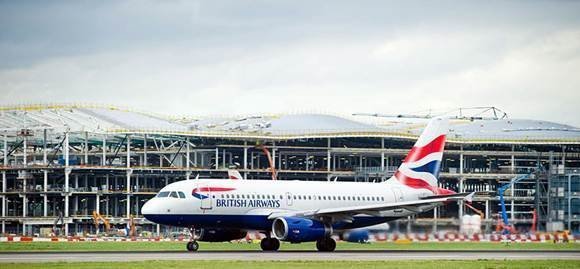 The construction of Terminal 2 is taking place around more than 1,000 take-offs and landings every day
Lessons from T5
Clark is confident that Heathrow has learned important lessons from the Terminal 5 development, which hit the headlines for all the wrong reasons four years ago.
Technical failures and problems with the baggage system led to cancelled flights and left hundreds of passengers temporarily stranded.
This time around, Heathrow is taking no chances.
The energy-efficient terminal
Terminal 2 has been designed with energy efficiency in mind, targeting 20% of its energy needs from renewable sources.
North-facing windows in the roof and louvered glazed walls are designed to let in natural light, but keep the heat out in summer, thereby cutting down the need for air-conditioning.
Sections of the roof are fitted with arrays of 2,500 light emitting diodes which mimic natural light.
A sophisticated control systems turns off lighting in parts of the building that are not used, or when daylight is bright enough.
The layout of Terminal 2, dubbed the "Toast Rack", means aeroplanes can taxi more efficiently.
The aircraft stands will supply aircraft with electricity and pre-conditioned air, so they will not have to run their auxiliary engines while stationary.
The airport has built an off-site facility – essentially a mini-airport – where engineers can thoroughly evaluate equipment before it is installed in Terminal 2.
"We are testing everything there and we know that once we have got that right, we can bring the equipment on-site, pre-configured. That way, the risks when you are on-site in the middle of a construction programme are much lower," says Clark.
Each new item of equipment has to be tested and given formal approval before it is duplicated throughout the rest of the terminal.
"The other principle we learned is to get the first of our types right, whether it's a camera, a PC, or a flight information display," says Clark.
Despite the huge scale of the project, the core IT team on Terminal 2 is surprisingly small – little more than 30 people.
Heathrow has outsourced most of the work to specialist IT and network contractors, (see panel), leaving the core team to focus on the planning and scheduling.
Andy Limb, senior IT project manager says the planning team has also learned valuable lessons from the Terminal 5 experience.
"We lost a lot of time on Terminal 5 on poor coordination, where there were revisits. For example, you would have a camera person go back three or four times [to the same job]," he says.
Work on T2 is planned meticulously in advance, with each job displayed on tracking charts, eight weeks ahead of time to keep contractors' trips to the construction site to a minimum.
For example, contractors installed the finished floor surfaces, protecting them with wooden coverings, while the building work was progressing, to minimise the number of trips they need to make to the terminal.
Contractors
Fujitsu has a £20m contract to install networks for the check-in and security areas, retail outlets and baggage reconciliation.
Tyco is supplying the cameras and doors.
Schneider Electric is delivering the SCADA systems.
Atkins is responsible for the radio and Wi-Fi systems.
Mott MacDonald is responsible for the technology design work, with Firstco.
Capgemini has the contract to manage Heathrow's datacentres, as part of a £100m outsourcing contract.
Siemens is delivering the baggage system.

There are four elements to the Terminal 2 programme: the new terminal building, a satellite pier (seen here), a new multi-storey car park and redevelopment of the airport's central road system
The IT infrastructure
Designers have used mathematical modelling to understand how passengers will move through the terminal, and to work out how best to design the concourse, says Clark.
In the future, passengers' journeys through the airport will become increasingly automated and less dependent on airport and airline staff.
The airport is running trials of automated bag drops. It is developing automatic security gates that could replace existing manual passport and ticket checks.
It is also looking to install self-boarding gates that could automatically scan tickets and passports as passengers enter the aircraft.
"The vast majority of passengers use self-service. It's in excess of 80% now, and conventional check-in is being seen less often," says Clark.
Managing queues
One of Clark's priorities is to develop technology to manage queues in the terminal. Intelligent CCTV cameras, for example, could identify bottlenecks at check-in or security, and call in extra staff to deal with the problem.
"There are lots of technologies out there that claim to do it through facial recognition, visual recognition, even iris on the move. We are looking at trialling some equipment using iris recognition on the move," he says.
But the biometric technology needed to make this happen is still some way in the future.
"If we want to have a fully automated journey, we need to crack the biometric technology," he says.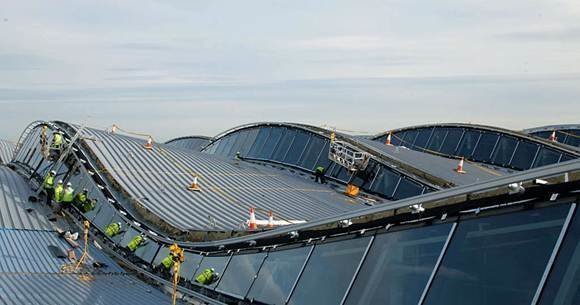 Natural light is a feature of Terminal 2. A sophisticated control systems turns off lighting in parts of the building that are not used, or when daylight is bright enough
Mobile technology
Mobile technology will play an increasing role in airports, as more travellers rely on smartphones and tablets, Clark believes.
Delivering flight information by text message, mobile phone boarding passes, and apps that allow people to order their duty-free are likely to become the norm in future, he says.
"We need to anticipate where we think technology and passenger behaviour will be in three or four years' time and make sure that we build that infrastructure in here," he says.
Heathrow is installing over 2,000km of network cable, 30km of radio cable, 12,000 CCTV cameras, 59 large comms rooms holding servers and networking equipment, and 30,000 network points
Heathrow has invested heavily in radio technology to offer Wi-Fi and to deliver mobile phone signals to passengers. The size of the building, and the unusual shape of the roof, demanded some careful modelling to ensure coverage.
When 4G networks finally arrive, Heathrow will be ready, says Clark. "As and when the mobile operators offer it, we will have the infrastructure ready."
The Terminal 2 network went live in late November 2012, and over the next six months Clark's team will commission the remaining 34 comms rooms, which house the rest of the network infrastructure.
The target is to have everything installed and tested by June 2013. The IT team will run it as fully operational terminal, putting the equipment through an extended period of operational testing, before the passengers turn up.
"We learned this from Terminal 5. A clear period of technical testing so we are sure the technology and the infrastructure is working, ready for operational trials,"he says.
Airlines will be introduced gradually into the terminal, rather than the big bang approach BAA took with Terminal 5.
"There will be teething problems, but we will be able to manage them," he says.
---
Heathrow's IT priorities
Neil Clark, who became CIO of Heathrow four months ago, has been working on the Terminal 2 project for two years. The terminal is a huge priority for the airport but it is only one of a large number of IT projects on Clark's list.
"We have a lot of work going on across the airport, in terms of our passenger experience work, our field operations, efficiency, baggage systems as well as our core business systems, ERP [enterprise resource planning] and financial systems," he says.
One of Clark's top priorities is to help Heathrow work in a more integrated way, so that the technology and business teams communicate more effectively, rather than work in silos.
The project, called Real-Time Heathrow, aims to link stakeholders – such as the airlines, the UK Border Agency and air-traffic control – so that they can respond more quickly, for example, to ensure the right resources are there when a plane lands.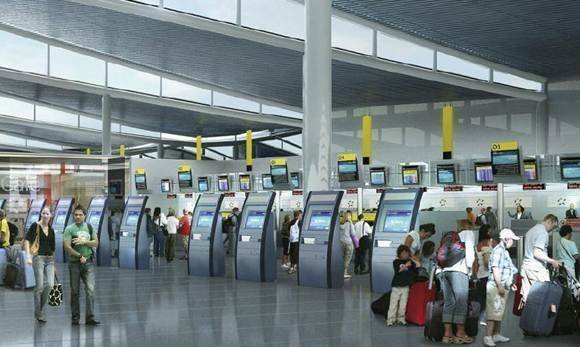 The vast majority of passengers – more than 80% – now use self-service
"It's not just about technology. It's about how we operate, how we organise the airport and how we run it as an integrated airport, with all the resources coming together," he says.
At the same time, Clark is consulting with the airlines to develop BAA's next five-year IT investment plan, which comes up for renewal in 2014.
The plan will feature more investment in the eastern end of the airport, home of Terminal 2, and the development of new high-tech baggage systems.
CEO Colin Matthews, has asked Clark to lead Heathrow's baggage strategy, which aims to automate baggage transfers between planes more effectively "emphasising Heathrow's role as an international 'hub' airport".
The airport predicts that two-thirds of passengers passing through Terminal 2 and Terminal 5, will be transfer passengers – so automating baggage transfer is a priority.
"That is a big piece of strategic work," says Clark. "We have had a strategic investment in baggage, but we need to think how this all comes together in terms of an integrated baggage solution," he says.
The project will ensure that baggage is delivered to transfer planes before passengers arrive, and will allow Heathrow to optimise the way it uses its automatic bag stores.
---
Images courtesy of Heathrow Airport
Read more on IT innovation, research and development