creative soul - Fotolia
Getting the Apprenticeship Levy right for technology employers
TechUK looks at the opportunities and challenges in creating IT jobs of the future and making the levy work for tech companies
The digital skills gap is one of the most urgent challenges facing the UK, with many tech companies finding it difficult to access the talent they need to grow. The forthcoming Apprenticeship Levy, a key tenet of the government's approach to developing skills in our young people, aims to create three million apprenticeships by 2020.

Download this free guide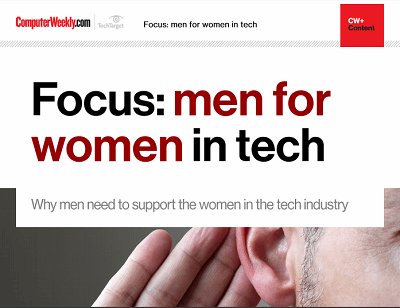 Men for women in tech
This guide showcases some of the men who are helping women to progress in the technology industry and the methods they are using to do so.
By submitting your personal information, you agree that TechTarget and its partners may contact you regarding relevant content, products and special offers.
You also agree that your personal information may be transferred and processed in the United States, and that you have read and agree to the Terms of Use and the Privacy Policy.
After a number of false starts, it's more important than ever that we get this right before it's too late. That means tech companies must be involved from the start, something skills minister Nick Boles has reassuringly committed to delivering.
The Chancellor's Spending Review in November confirmed that from April 2017, employers with a wage bill of over £3m will be subject to a 0.5% payroll levy to fund apprenticeships through a proposed e-voucher system. The Chancellor has said that less than 2% of businesses will be subject to the levy. However, as the average tech sector salary at £43,000 is much higher than the national average, we can expect a significant number of tech firms to be affected.
The newly created Institute for Apprenticeships and the Prime Minister's Apprenticeships Board will be looking at implementation and delivery. Tech leaders need to proactively put forward workable and innovative suggestions to ensure the e-voucher scheme addresses skills shortages, while ensuring apprenticeships right across the economy are hard-wired with digital to equip our young people with the skills they need for the jobs of the future.
Based on discussions with tech leaders in recent weeks, there are four key areas we must address:
1. Help tech companies understand the benefits of higher apprenticeships for their business
Higher apprenticeships, such as those championed by the Tech Partnership, offer a work-based learning programme and lead to a recognised qualification equivalent to a higher education certificate (Level 4), higher education diploma or foundation degree (Level 5), or equivalence to a Bachelor degree (Level 5).
Higher apprenticeships only represented 4% of all apprenticeship starts in 2014/15, and it's important that in meeting the three million target we grow the number of higher apprenticeships being offered.
2. The Institute for Apprenticeships should set high quality standards with a focus on digital
The Institute for Apprenticeships was created to set standards and ensure quality, and as such it's vital that sufficient tech expertise sits on the Institute's board. This will ensure the implementation of the levy works for both nascent and more established tech companies and guarantee that the importance of digital across all apprenticeships is understood. This is critical for ensuring that our young people are truly prepared for the IT jobs of the future.
The skills gap affects companies large and small, and all must be able to benefit from the levy if we're to support growth and job creation across the UK. Under current provisions, SMEs are given grants to hire apprentices. These grants must be maintained and supplemented to ensure growth in the sector. The Institute must identify an effective way to ensure the entire tech supply chain, including SMEs, can access the talent it needs.
As an employer-led body, the Institute has a duty to ensure that the series of standards for apprenticeships should not be pulled down to fit the lowest common denominator. The Institute should be bold, and set ambitious standards with a focus on digital to ensure quality is valued over quantity.
3. The skills shortages the tech sector face are urgent and specific
It is important that companies are not disincentivised from wider investments in tech talent development due to the introduction of the levy, particularly for those roles where an apprenticeship route is not always the most appropriate. There are specialist roles such as cyber security specialists, senior developers, and big data analysts where shortages are pronounced and advanced training is required.
The Institute for Apprenticeships should work with industry and government to examine how the levy funds can be spent within a company to ensure that skills development is happening at all levels.
4. A workable model for "employer in-house" training needs to be agreed upon
Many employers use an external training organisation to provide apprenticeship training. The levy proposes the creation of a "digital voucher" system that will be used by companies paying the levy to pay training providers directly.
It's critical that implementation of the levy makes it easier not harder for tech companies to access the talent they need

Julian David, TechUK
However, some tech companies may not feel they will be able to outsource apprenticeship training to external providers, with a large portion of tech companies providing in-house training on sector-specific skills. The levy proposals should look seriously at how employers can continue in-house training and how that will affect the reclaiming mechanism on digital vouchers so that companies are truly in the driving seat.
Make it easier to find talent
Digital businesses are key drivers of productivity and will underpin the future success of the UK economy. The government must consider the implications of the levy and work closely with industry to ensure our collective ambitions for apprenticeships align with the needs of the sector and the future of the digital economy at large.
The UK's phenomenal digital potential must be matched with a robust and growing talent pipeline if we are to continue as a global leader in tech for decades to come. The needs of the sector are diverse and evolving, and it's critical that the implementation of the levy makes it easier not harder for tech companies to access the talent they need.
Read more on IT education and training