How Renault mastered the art of online car sales
Since the relaunch of its Web site 16 months ago, Renault has seen Web sales leads hit 900 a week, with 50% of enquiries...
This Article Covers
RELATED TOPICS

Download this free guide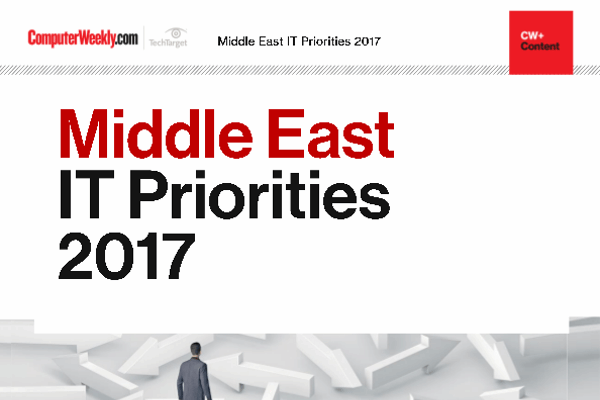 What are the IT priorities in Middle East?
Before any investment, how about taking a look at your peer's IT priorities for 2017? Download this report right now to find out in which areas IT decision makers are planning to invest in the nearest future!

By submitting your personal information, you agree that TechTarget and its partners may contact you regarding relevant content, products and special offers.

You also agree that your personal information may be transferred and processed in the United States, and that you have read and agree to the Terms of Use and the Privacy Policy.

Since the relaunch of its Web site 16 months ago, Renault has seen Web sales leads hit 900 a week, with 50% of enquiries resulting in sales. Daniel Thomas finds out the secret of Renault's success



In the heady days of the dotcom boom consumers were told they would be able to buy vehicles direct over the Internet, and high street dealers were warned that they would be put out of business by new car e-tailers.

As was the case with many e-commerce promises, this proved to be little more than hype, but companies in the automotive retail industry are beginning to show that the Web can be a key channel in helping to drive car sales.

Last week, French manufacturer Renault revealed that its UK Web site has become the biggest source of new sales and service leads for its dealer network around the UK, outstripping telephone enquiries, showroom walk-ins and other modes of enquiry.

Richard Harrison, e-commerce director at Renault, said Web sales leads have grown by 980% since the site was relaunched in April 2001 - an average of almost 900 leads a week - leading to a "significant" sales conversion rate.

"More than 50% of our potential car buyers use the Web as the first point of call and the Web positively influences the buying decision of about half of our buyers," he said. "With the economies of scale that the Web offers this is obviously very good for us from a return on investment point of view."

Although other car manufacturers, such as Ford and Vauxhall, have explored the opportunities to sell direct over the Web, Renault did not want to exclude its dealer network, Harrison said. "Our dealers are crucial to the success of our business and relationships with our customers," he said.

Michael Dornan, automotive analyst at research firm GartnerG2, said most car manufacturers realised that the Web could never replace the dealer network.

"Very few consumers will carry out the whole car buying process online, and the 1%-2% who would are more likely to go to a car marketplace, such as Jamjar.com," he said. "Also, manufacturers need to protect the dealer network because that is where their sales come from."

In addition, Dornan said, the European Union "block exemption" law, which allows car dealers to sell more than one brand, is another reason for manufacturers to keep the dealer network on side. To this end, every main and satellite Renault dealer has its own Web site, which is integrated with the main Renault site and hosted by the manufacturer, Harrison said.

"Every time an online customer puts in a request to talk to a dealer on the main site it goes straight into the dealer environment, via our Siebel lead management tool, and about 81% (of dealers) respond within 24 hours," he said.

Giving dealers a standard, "one size fits all" Web presence makes sense, according to Dornan. "A lot of dealers have their own Web site but branding is not consistent, which does not reflect well on the manufacturer," he said.

"Bringing the satellite network under one umbrella means [the manufacturer] can control the brand. It is all about improving the relationship with the customer directly, using the dealer as an agent."

Integrated Web sites also bring a number of benefits to dealers, said Martin Hill, who runs four Renault dealerships in Bournemouth.

"We can conduct our marketing campaigns via Renault, which is good from a resource point of view," he said. "Integration also means we can utilise advanced functions, such as personalisation, that we would not have been able to use otherwise."

The lead management tool means dealers have more opportunities to turn enquiries into sales, Hill said. It also improves customer service, which has not always been of a high standard in the industry, he admitted.

"It is a sadness of the motor industry that showroom staff do not always follow up every lead, whether it is because they do not think it will be worth dealing with, or a case of not checking e-mails," Hill said. "The system allows us to follow up every lead."

Initially, Hill admitted, many sales representatives were suspicious that leads coming from the Web would not be worth following up. In fact, he said, the new channel has proved to be a key driver of sales.

"The proof is in the pudding - in the past six months we have sold 28 cars as a result of Web enquiries," he said. "We categorically would not have made these sales had it not been for the Web site." According to Hill, online car buyers are more demanding than average, expecting higher levels of service. But, he said, given the right approach there is a "very good commercial opportunity" on the Web.

As well as an opportunity for generating sales leads, the online channels have been a key marketing tool for Renault in the past year, Harrison said.

Some car manufacturers use pop-up online advertisements but consumer surveys have identified these as one of the most annoying aspects of the Web, so Renault has tried to keep them to a minimum, he said.

Instead, it has focused on new ways to exploit the marketing potential of the Web, such as overlays - less intrusive versions of the pop-up - and micro-sites for particular products such as the new Renault Megane, which launches next month.

"We have provided exclusive information about the new Megane online, including the ability to book test drives before anyone else," Harrison said. "The site has been running for seven weeks and has had 37,000 visitors, with 1,200 test drives booked. All this without any advertising."

Renault has also used the Web in an attempt to create loyalty among existing customers, with a personalised section called "My Renault" where information, such as vehicle configurations and dealer addresses, can be saved.

The company is looking to expand the site to include more added value features, including an online quote-and-buy insurance service, Harrison said.

As well as focusing on the Web, Renault has been working on ways to exploit the potential of interactive TV (iTV). "We launched our first iTV advertising campaigns at the start of 2002, offering test drive [bookings] online at the end of the adverts," Harrison said. "As a result we have seen a significant number of entirely new prospects, with 95% of respondents having not contacted us previously."

iTV will be an increasingly important marketing platform for car manufacturers, according to Dornan. "The main demographic of car buyers, generally males over 40, fits in well with iTV users," he said. "It allows the manufacturer to grab the viewers when they are stirred, directly after an advertisement."

Such hybrid commerce, where consumers use one channel to research a product and another to buy, will become increasingly popular, both for car manufacturers and other multi-channel retailers, Dornan said.

Although the success of hybrid commerce is difficult to measure in purely financial terms, car manufacturers such as Renault can provide a useful example for IT directors and e-commerce managers who are trying to justify investment in online initiatives, he said.

"When measuring the success of these projects you can obviously look at sales figures, but there are other aspects, such as generating loyalty via the Web site, which can lead to follow-up sales," he said. "For car manufacturers this is particularly important as people only generally buy cars every three or four years."

What Renault did right

It hosts a Web site for main and satellite dealers, integrated with its own site, allowing it to control the online brand


Implementing a lead management tool has enabled better monitoring of potential customers, meaning that every sales lead is followed up


"My Renault", the personalised section of the Renault site, has boosted customer loyalty


The use of overlays and micro-sites online has improved Renault's marketing.
Further information:

www.renault.co.uk
Read more on E-commerce technology