IT priorities for 2012: Public cloud gains; budget increases
TechTarget's survey of Indian IT priorities for 2012 reveals increases in IT budgets for the year and much interest in cloud computing and the public cloud.
In India, a majority of organizations stood firm during the recession, and almost all of those that were affected are back to normal once again. Against this backdrop of a "business as usual" sentiment, TechTarget surveyed 746 data center professionals and garnered their inputs on the upcoming trends for 2012. Overall, it seems that there is a considerable increase in IT budgets for the year 2012, with public cloud computing being the main area of focus. Here's what the experts have to say on the conclusions.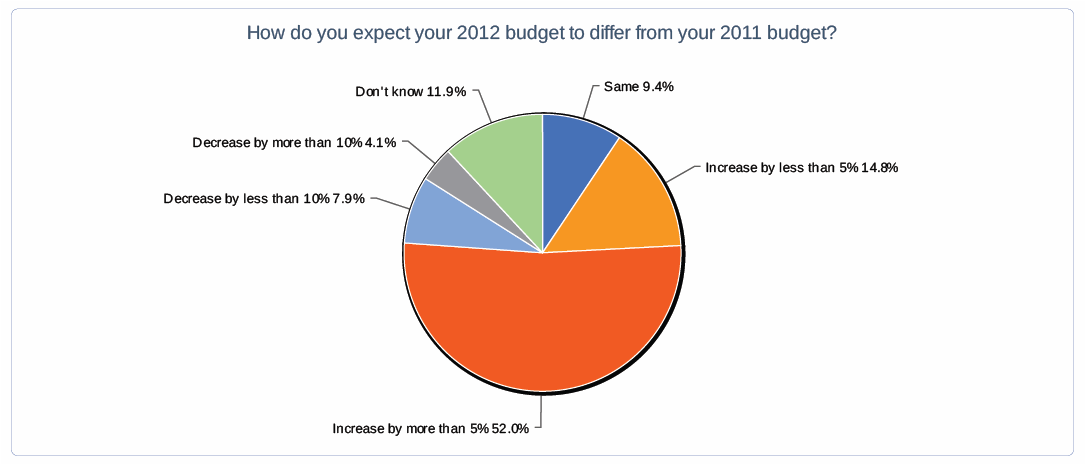 Figure 1. IT budget outlook for 2012
According to the survey findings, more than 52% of respondents opine that the budgets for 2012 are set to increase by more than 5%. Gopakumar Panicker, deputy general manager for IT at Shoppers Stop, believes that rising costs, the dollar effect and an increase in skilled resource cost could be the drivers for such increase.
Citing the impact of the recession on India, or rather the lack of it, Subhasish Saha, chief technology officer of the Apeejay Surrendra Group says, "Unlike the US or Europe markets which were impacted, India survived, and will continue to spend on IT."
Referring to the dependence of business functions on IT enabled systems, Jayantha Prabhu, the chief technology officer of Essar Group says, "Any growth in the business has to be directly proportional to the investment in these systems. Hence the budgets will increase."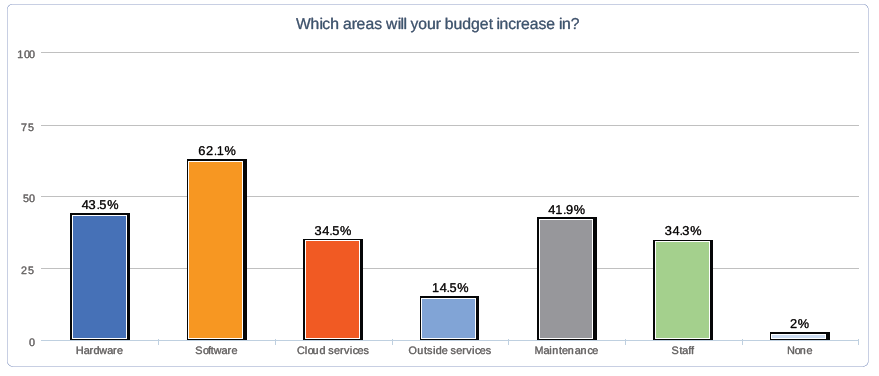 Figure 2. Areas of budget increase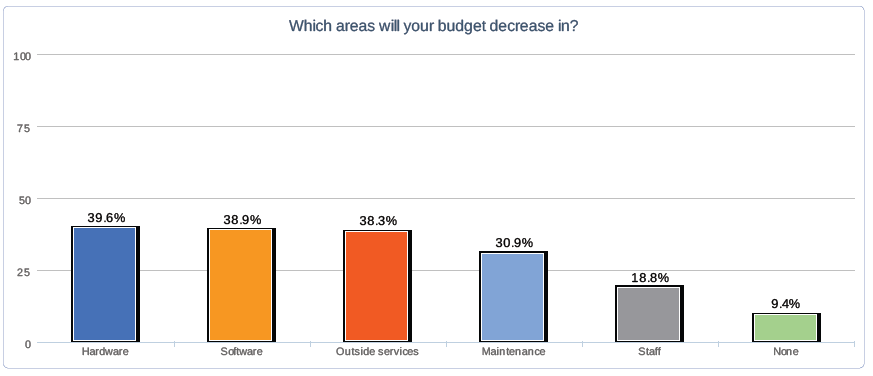 Figure 3. Areas of budget decrease
The surveyed data center professionals state that software and hardware may be the areas in which the budgets will increase. In Saha's opinion, software investments may grow in the area of information security. Prabhu is of the view that investment in analytics and enterprise content management systems will increase in 2012. When asked about the areas in which the budgets would decrease, 39.6% of the respondents believed that hardware spends will see an impact. Panicker explains that small and medium businesses (SMB) as well as startups will prefer to host their infrastructure in the cloud rather than investing directly on hardware. Elaborating on this finding on IT priorities from the user perspective, Saha believes investment in the shared services model will supersede spending on hardware for deployment within the organization.
Cloud computing stands tall
Cloud is one of the most talked about computing models today -- its benefit is difficult to ignore. In the year ahead, 40.2% of the respondents foresee the budget for cloud computing increasing in absolute terms and as a percent of the whole budget as well. According to Panicker, 10% or more could be provisioned and the ratio will increase gradually over the next few years. Saha deems clouds flexibility during peak loads as the key driver for such budgeting. "To facilitate business dynamics and changing requirements, you need to remain agile and responsive to change. Keeping idle capacity indefinitely is a foolish act, and the cloud helps you attend to sudden surges."
Prabhu agrees that cloud computing is definitely affecting the IT budgets, with many Indian CIOs planning to deploy these services in 2012. "At Essar, we have already gone ahead with deployment of few instances on SaaS and PaaS. We are exploring multiple new requirements," he says.
Through 2012, 32.7% respondents indicate spending on public cloud computing as the top IT priority. Our experts believe that this year will see more momentum in public cloud adoption. According to Panicker, the key to sustain this momentum is the ability of the service providers to offer security and availability. Even a single instance of failure may halt the momentum, and companies will be skeptical.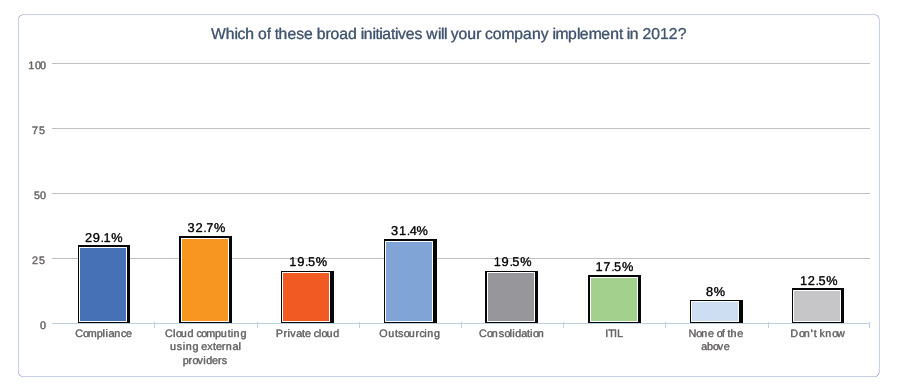 Figure 4. IT priorities for 2012
Prabhu is of the opinion that benefits offered by the public cloud in terms of on-demand self-service, broad network access, resource pooling, rapid elasticity and measured service can lead to a very good business case, as compared to an on premise deployment. Saha agrees that public cloud will gain popularity, as it is a cost-effective option for selective business requirements. He believes that Instant Messaging (IM), mailing and unified communications are better managed in a public cloud than in-house.
Public cloud computing is the top ranked of the IT priorities for 2012, followed by outsourcing, which had 31.4% respondents opting for it. Panicker foresees that Indian companies will increasingly mix internal employees and outsourced staff within project teams to get better results.
ITIL adoption witnesses downward slope
With only 17.5% opting for it as one of the IT priorities for 2012, ITIL projects didn't fare so well in the survey. To explain this, Panicker highlights the way IT is viewed as a support function in the organization. "When a core business department has not adopted any formal standard, expenditure on ITIL projects for a support function such as IT may not be a high priority," he says.
Saha believes that even though ITIL projects have always provided good value addition for efficient IT service, management organizations are looking more towards outsourced or cloud-serviced IT solutions. Hence ITIL as one of the IT priorities is reducing.
Application development a frontrunner
Panicker and Saha strongly agree with the finding that Indian organizations devote most of their time to application development. Until 2011, most organizations focused on core processes and business processes such as ERP, while lower priority was given to BI. But IT priorities for 2012 are changing, and the focus will shift to application development.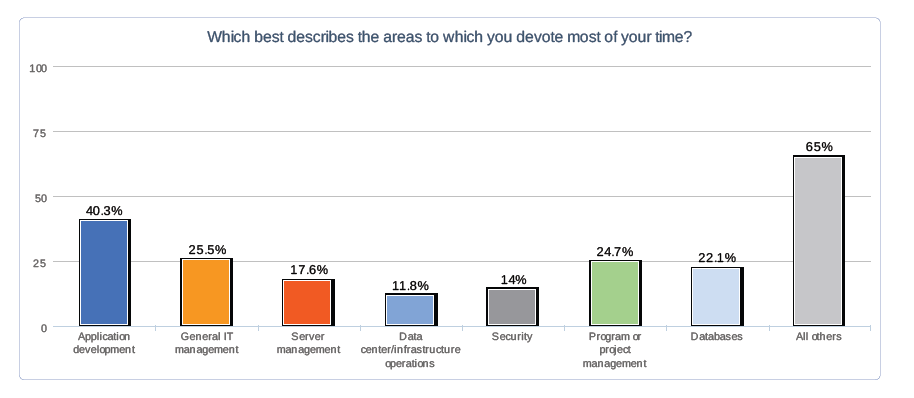 Figure 5. Activities that take up the most time
Panicker believes that development for cloud-based applications and mobile applications will trend. The SMB market will be the frontrunners in application development, as enterprises mostly tend to go with standard solutions, and those solutions do not allow much customization. SMBs may create their own systems and customize the processes for the business as per their growing needs.
Network security set to lead in 2012
Looking at the security picture for 2012, 63.8% of the respondents chose network-based security as the top security initiative among their IT priorities. However, our experts beg to differ. Where on the one hand Panicker touts overall security as the prime focus, Saha believes that internal IT security in terms of how companies manage the distribution, access and storage of information will be the key driver.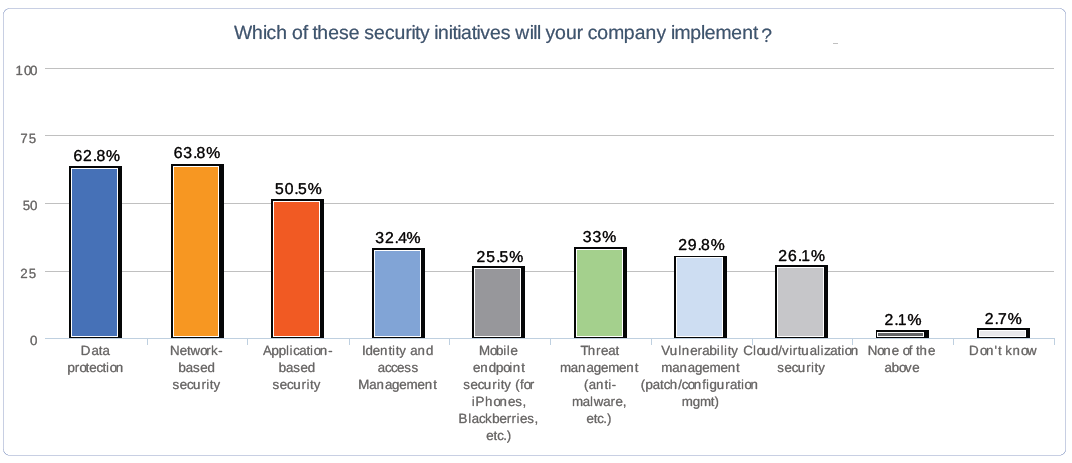 Figure 6. Security initiatives for 2012
The delivery and consumption of information has changed in the last two years. It is being accessed on various devices, including tablets and smartphones, and it is being stored on the public cloud as well. The challenge that will be addressed among IT priorities in 2012 is to ensure overall security of data, and may not be specific to a network.
According to Saha, the concern that will be addressed in 2012 is that of internal IT. "If you really ponder, security threat is huge from people working within the company as the information is available for all," he says.
Virtualization leads the storage front
Data center professionals deem storage virtualization as the next storage initiative, and a good 44.6% opted for it among IT priorities for 2012.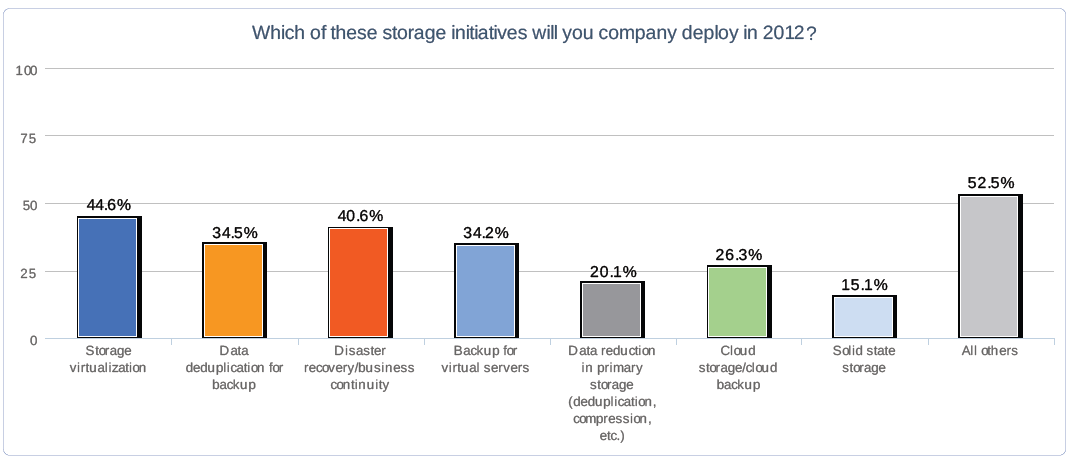 Figure 7. Storage priorities for 2012
Our experts believe storage virtualization trended in 2011, and feel that this year will witness others catching up to reduce overall TCO. However, the SAN will remain as a topmost priority in 2012. Saha believes that the boom of server virtualization initiatives last year will be one of the key drivers for SAN technology to be adopted this year, as this provides a common pool to store virtual machine data and facilitate backup from a central place.
BI one of the top software initiatives in 2012
Business intelligence/analytics/data warehousing is among the top software initiatives this year in our respondents' IT priorities.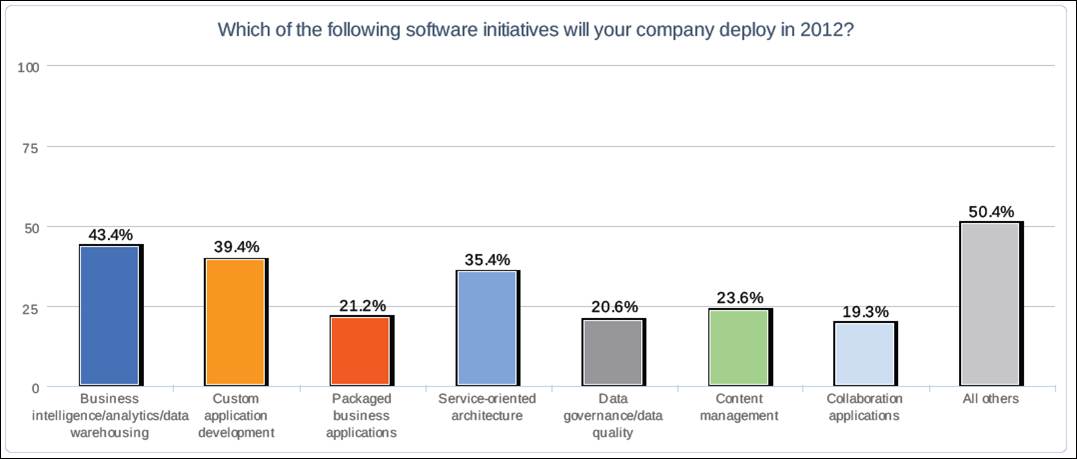 Figure 8. Software priorities for 2012
Panicker is of the view that competitive markets will drive such initiatives in 2012. "Analyzing the existing data will help you understand your existing customers better, and thereby help you with better market penetration," says Panicker. Saha believes that easy accessibility of BI tools on personal devices will be the driver for such initiatives in 2012.
Wireless networks to pick up this year
Panicker believes that wireless networks may see a boom due to the emergence of mobile workers and reduced infrastructure costs, while Saha is of the view that both wired and wireless networks will continue to be implemented at the same rate.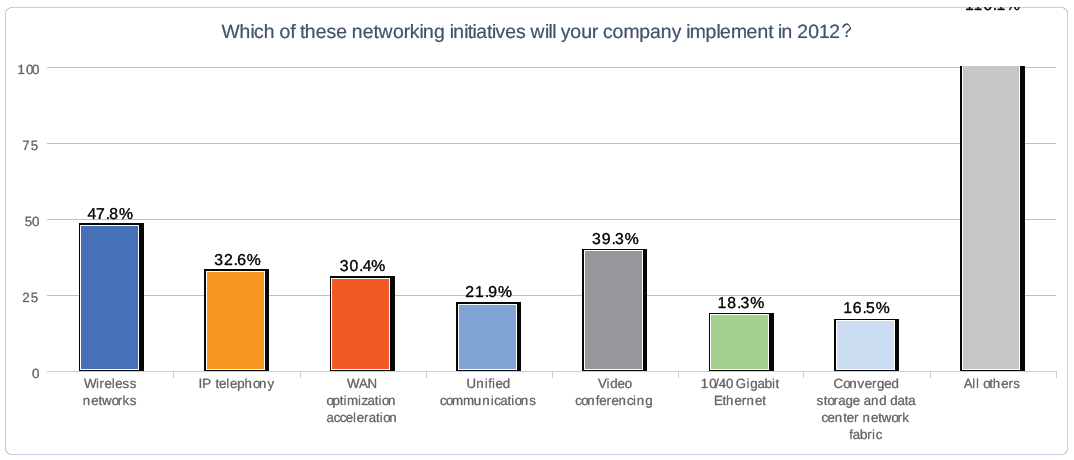 Figure 9. Networking priorities for 2012
Our survey however reveals that as far as IT priorities go wireless networks will certainly be among the top network initiatives of 2012.
Smartphones and Windows 7 seize end-user attention
Windows 7 migration was chosen as the best desktop implementation by more than half of the respondents. Saha says, "In the history of the Microsoft OS, Windows 7 is the most reliable and robust operating system to be launched. Hence it will trend in 2012."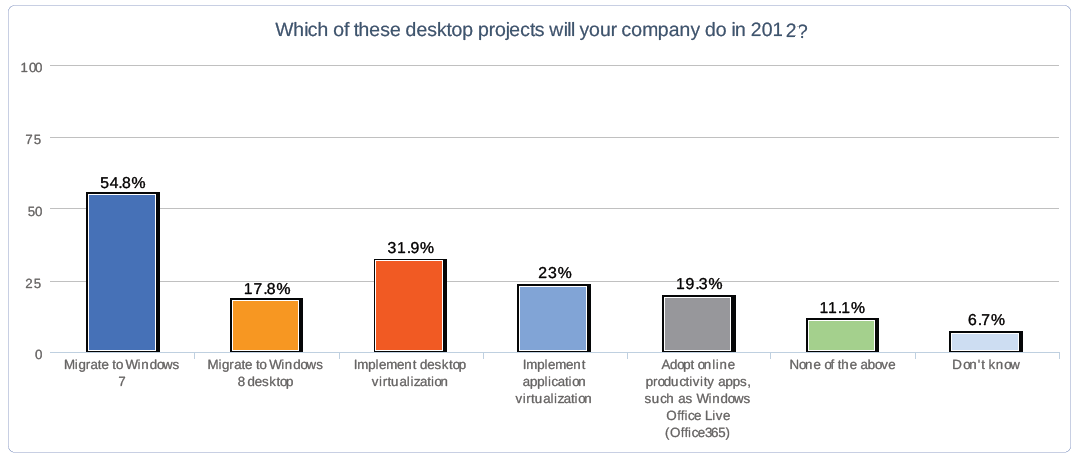 Figure 10. Desktop project priorities for 2012
Among several competing IT priorities, including tablets and mobile security, smartphones were chosen as the key mobility initiative for 2012, getting the nod from 34.3% respondents. Even though laptops and tablets will have their own segment, Panicker believes that smartphones will gain in importance due to their utility features.
Saha agrees too, saying, "New technology implementations such as Quick Response (QR) code applications can only be harnessed through smartphones. Therefore, to tap new advances in technology, smartphones surely will be the focus of 2012."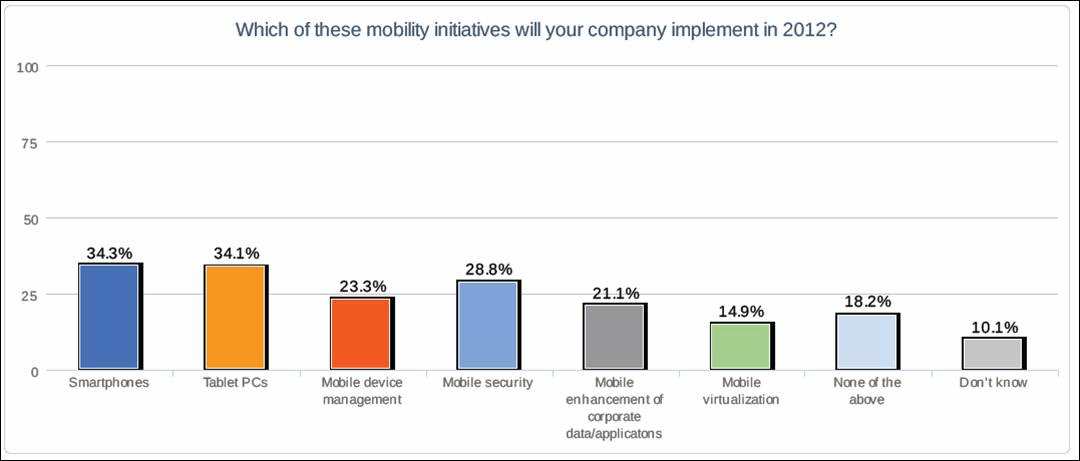 Figure 11. Mobility initiatives for 2012