CompTIA Mobility+ Certification preparation from Computer Weekly
Prepping for CompTIA Mobility+ Certification. Take out practice test and see how you fare.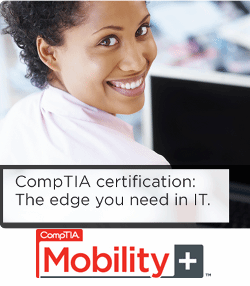 Welcome to the Computer Weekly FREE CompTIA Mobility+ Practice Test
CompTIA, the leading provider of vendor-neutral skills certifications for the world's information technology (IT) workforce, recently introduced CompTIA Mobility+ for IT professionals working with mobile technologies.

Individuals who earn the CompTIA Mobility+ certification have demonstrated their ability to deploy, integrate, manage and support a mobile environment, including mobile device management, troubleshooting, security and network infrastructure.

Are you ready for the CompTIA Mobility+ exam? Try this Computer Weekly hosted mini-quiz and see how you fare.
Read more on Smartphone technology