What IT leaders want from the new government
We invited a group of IT leaders to debate what they would like to see from the new government, whatever form it takes. They identified five key themes they would like to see in a manifesto for IT.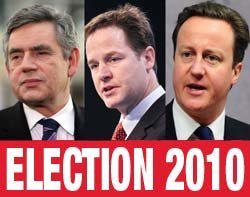 What can IT leaders do for the economy, and what can the government do for IT?
We invited a group of IT leaders to take part in a roundtable discussion, in association with 360°IT - The IT Infrastructure Show, to debate what they would like to see from the new government, whatever form it takes. They identified five key themes they would like to see in a manifesto for IT.
More ambition
Former Highways Agency CIO and non-executive director of 360°IT Denise Plumpton found the manifestos of the three main political parties to be lacking in ambition for IT.
"How well do MPs understand IT?" she asked, expressing disappointment that the recent debate on the Digital Economy Bill had failed to bring many questions on the floor of the House of Commons, and was passed with "unseemly haste" and a "lack of consultation" about disconnecting illegal downloaders from the internet.
"We often say that IT needs to be an intelligent customer, but how well do politicians understand the issues around IT?" she said.
Plumpton saw common ground in the three main parties' manifestos, with shades of the recent government IT strategy document in all of them. The Liberal Democrats are keen on sorting out IT procurement, investigating cloud computing, and investigating open source. The Conservatives bemoan the wastefulness of certain government IT projects and want to renegotiate with major suppliers to achieve cost reductions. Labour also favours a scaling down of the ambition of the National Programme for IT in the NHS.
But all of this, she said, while fine as far as it goes, does not address the outside world of the real economy.
"This leaves me full of despondency. What will they do to help innovation?" she said. "Where is the catalyst? US president Barack Obama plans to put a man on Mars. Where is our ambition? Labour says it wants all schools to have internet access - I remember this being said in 1997. They want broadband Britain, at an unspecified speed, by 2020. By 2020? We are moving too slowly."
Colin Beveridge, consultant at The Better Practice Forum, urged the next government to "forget IT completely".
"We don't build effective information systems," he said. "The government CIO role is poorly conceived; it should be more integrated. We need to move forward from the silo mentality. And we need a nation that is properly connected".
IT manager Gideon Kay agreed that the parties are focused on how to do IT better rather than how IT is going to improve our country. "They are missing the bigger point," he said.
"Failings - in the National Programme for IT in the NHS, and so on - are to do to with structures, getting buy in from stakeholders. However, fantastic is the IT, these projects are doomed from the start because of structures, systems, and culture."
Nick Gaines, group information systems director at Volkswagen UK, said that when politicians speak of "transformational IT", they need to grasp that "the main thing is to change what is in people's heads". And if IT is to be seen as a cost cutting engine, then "innovation goes out the window".
"You achieve success when you get IT people to promote different ways of thinking. You need to get away from all that engine room stuff," he said.
"IT is just one aspect of doing business; what is good for business is good for IT. We need to promote the idea that knowledge of IT makes you a better manager, leader and innovator. It is a fundamental discipline of management."
Better education
Gaines and his fellow panellists also lamented the state of IT education in secondary schools. "It's rudimentary and superficial; it does not impart a broad grasp of the discipline. It is more about how to use PowerPoint or an Access database. We undervalue engineers and scientists in our national culture," he said.
Charles Hughes, director of consultancy eManagement, agreed the syllabus in schools is extremely poor.
"IT is both the problem and the solution. We do have these huge projects that have gone wrong, but the technology per se is not the cause of that. IT is a way to efficient and effective systems, shared services, and so on," he said.
"We also must convey what we do and what we deliver better. Look at a modern car - most of that is IT; the same goes for mobile phones. There are so many benefits and solutions in everyday use that are down to IT. There are plenty of success stories, for example in gaming and in financial services software. None of this is recognised."
Better IT understanding in Whitehall
Hughes said that education as also about making sure senior civil servants understand IT. "Until we crack that nut we will struggle," he said.
Sue Yoe, executive partner at Gartner Executive Programmes, also advocated more linking in Whitehall and the promotion of a better understanding of IT. Moreover, she said, there are two tiers: the ministerial and civil servant levels. "What can they learn from the commercial world?" she asked, citing the online vehicle tax disc application as an example of success.
IT also needs to be better at lobbying.
"Our voice is too fragmented," said Beveridge.
"And not loud enough," added Hughes.
Within government, do IT leaders push back against ill-conceived initiatives, as they might in the private sector? Could they stiffen the resolve of civil servants?
"It depends on the ministers and the civil servants," said Plumpton. "If you are a career civil servant you will tend to be reluctant. Ministers have the 'divine right of kings'." And they take the attitude that the minister will have moved on before anything serious gets done, she said.
Any future government CIO needs to show more teeth said Mike Tonkiss, head of IT at Neopost.
Less red tape, better procurement
The Conservatives want to open up government procurement to small and innovative businesses. They say they will publish online all government tender documents for contracts worth over £10,000, and will break up large IT projects into smaller components. This idea of opening up bidding to smaller companies was welcomed at the roundtable. Breaking away from constrictive procurement practices was favoured.
"I did not follow the letter but rather the spirit of the rules," said Plumpton, speaking of her time at the Highways Agency. But "risk aversion is rife" she said. She also commented that when David Cameron says it has to be feasible to save one per cent of costs he is right: "Surely anyone can do that?"
Gaines said the discussion on public sector IT cost cuts is "not a valid debate".
"In the private sector we always have to do more with less. We hear about eight-year contracts in government IT. Who in the private sector would enter a contract like that?"
One large government IT project in particular divides Labour from the Conservatives and Liberal Democrats - the identity cards scheme.
"The costs have been incurred anyway. It is more about sensitivity around the concept," said Yoe. The Tories and Lib Dems will scrap ID cards and the ContactPoint children's database.
"My reading is the Labour manifesto is all about benevolent government for the benefit of all, and the Conservative manifesto is all about reduction in the size of government, enabling people to do their own thing," said Hughes.
"I have not seen those applied specifically to IT, but one must assume that is significant."
More innovation
Several delegates called for more support for technology innovation from government.
"The new prime minister needs to identify the barriers and do away with them," said Yoe.
Tim Cray, principal consultant at Vitrium, said, "Spending our way out of recession is not sustainable," and he urged central government to give local authorities much more leeway: "Let them reinvest what is saved as they see fit."
The overall message was to promote the entrepreneurial and creative aspects of IT. So, more efficient procurement and better communications in big government IT projects, but a stronger affirmation for helping IT to make our economy more innovative and successful.
• 360°IT - the IT Infrastructure Event is being held at Earls Court 1, 22-23 September 2010. http://www.360itevent.com
Read more on IT legislation and regulation