Was Mr Brown's e-business Budget too prudent by half?
As the dust settles on the Chancellor's Budget, the IT industry has been left with a sense of frustration and disappointment...
As the dust settles on the Chancellor's Budget, the IT industry has been left with a sense of frustration and disappointment about exactly how it will affect them. Mike Simons finds out what they really wanted



IT-friendly sound-bites, some sound policies and good intentions littered lastweek's Budget. But there were also missed opportunities, industry experts said.

"It was a business Budget, but not a bold one," said Ian McDade, technology companies partner at PricewaterhouseCoopers.

Chancellor Brown boasted of the boost he was giving to e-commerce, but industry experts were not overwhelmed by the detail behind the headline announcements.

Download this free guide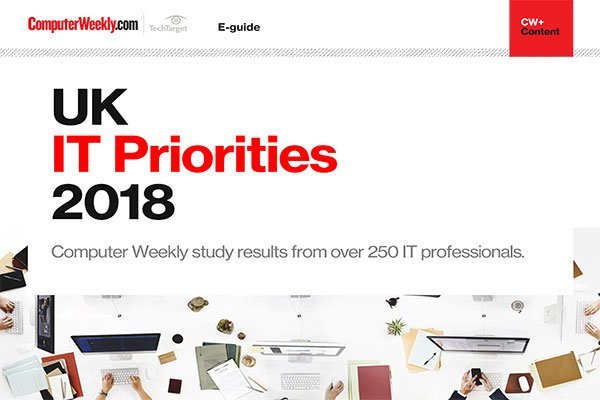 UK IT Priorities 2018 survey results
Download this e-guide to discover the results of our 2018 UK IT Priorities survey, where IT leaders shared with us what they are going to be investing in over the coming 12 months.
By submitting your personal information, you agree that TechTarget and its partners may contact you regarding relevant content, products and special offers.
You also agree that your personal information may be transferred and processed in the United States, and that you have read and agree to the Terms of Use and the Privacy Policy.
For the IT and telecoms departments, the key features of Brown's Budget were tax credits on IT investment by small- and medium-sized companies, tax credits on research and development, and in addition, the Chancellor clarified what qualifiesas R&D, announced major changes to the capital gains tax system and encouraged employee share ownership schemes.
E-commerce
Despite Brown's e-commerce-friendly rhetoric, David Graham, PricewaterhouseCoopers' expert on direct taxation of electronic commerce, said the Chancellor had not gone far enough.
"These are steps in the right direction, but only small steps. The 100% write-off of tax for small businesses investing in technology may not affect many dotcoms as they are making losses, anyway," Graham said.
He said the Budget contained little incentive for senior employees - such as IT directors - to consider leaving traditional bricks-and-mortar companies for dotcoms.
As for plans to discuss how the UK can attract capital funds, Graham said there was a need to free up funds, but questioned how quick the consultation would be.
"If you go to Sand Hill Road in Silicon Valley, they are said to be ready to throw money at you to start dotcoms. That's hardly the case here," he explained.
Robbie Vann-Adibé of Web consultancy Viant had a different take.
He pointed to an influx of funds to European markets from US venture capitalists, and suggested market forces were already doing the job.
Vann-Adibé agreed that plans to allow dotcom firms recruiting essential personnel to offer share option incentives of £100,000 for up to 15 employees were "too low".
Share options
John Higgins, director-general of the Computing Services and Software Association was disappointed that the Chancellor failed to address a National Insurance liability for businesses that give staff share options.
If the company floats and the shares increase in value, the employer has to pay NI contributions against the value of these employee shares.
"This is a tax on growth," said Higgins.
Ian Mitchell, IT analyst at stockbroker Beeson Gregory, and Computer Weekly columnist, echoed the point.
"There is a tremendous atmosphere in the UK for new technology start-ups, but the Government has got to sort out the situation over employers' National Insurance contributions on share options," he said.
"Ministers have announced a consultation. It should be quick and this burden should be removed."
Communications
Telecom user groups were not enthusiastic about the Budget. The Chancellor missed an opportunity to speed up high-bandwidth access to the Internet for business, according to David Harrington, director-general of the Telecommunications Managers Association (TMA).
"Although capital gains tax incentives for SMEs investing in technology is welcome, larger companies in a position to expand broadband access - like the ISPs - haven't been given an incentive to put in the massive investment necessary to rival BT," he said.
"Even BT hasn't been given that much of an incentive to expand its broadband initiatives to rural areas," he added.
Telecommunications Users Association chairman Bill Mieran said: "The R&D incentives are obviously welcome, but what we really need is new entrants in the telecoms fields to rival BT."
Skills shortage
Moves to beat the skills shortage didn't impress Philip Virgo, strategic advisor the Institute for the Management of Information Systems.
"When it comes to overseas workers, we are already competing head-to-head with the Americans and the Germans," said Virgo.
"There are worldwide shortages of IT skills. The rest of Europe has the same e-commerce shortages as we do but, in parallel, they have to get their systems euro converted by 2002," he explained. "They will have to compete for skills harder than we are. It's far more important to train and to keep our own people."
Industry hopes that the Chancellor might amend its IR35 legislation to increase tax allowances for training have not been realised. "IR35 was a done deal," said PricewaterhouseCoopers' McDade.
Public sector
John Serle, of the Society of IT Management, which represents local government IT chiefs, was enthusiastic about the Budget, but thought more could have been done on training. He wanted the Chancellor to reintroduce a measure abandoned by the last Tory Government and offer tax breaks to organisations that train staff to agreed levels.
Serle welcomed the Government's plans to increase public spending by £4bn, but said: "We need this to be 'invest to save' money, providing a sustainable infrastructure that can drive down costs year on year."
NHS IT managers were pleased at the Chancellor's announcement of £4.9bn extra funding for the National Health Service, as part of a four-year 6.1% above-inflation spending commitment.
"If it takes pressure from the NHS overall it could be good for IT," said one IT manager from a health authority in the Midlands.
The NHS has a £1bn modernisation fund for IT, but this is not ring-fenced and sometimes ends up in non-IT projects. The funding boost could make this less likely.
IT managers at trust level were less optimistic. One said it was rare that funding increases ended up with IT, would be more likely to be directed to frontline staff like doctors and nurses.
Budget highlights for IT
Relaxation of rules on work permits for It staff

SME tax credits of 100% for hardware, software and online infrastructure investment

Research and development tax credits of 30% for SMEs

Employee shareholder schemes boosted with 10% capital gains rate

The Chancellor missed an opportunity to speed up high bandwidth access to the Internet
Read more on IT for small and medium-sized enterprises (SME)