University of Huddersfield revamps Wi-Fi with Meru Networks
University ditches Cisco and adopts a new Wi-Fi network to support more voice and video applications over mobile devices
Wi-Fi is increasingly becoming a ubiquitous service that web users want in every aspect of their lives.
Whether travelling to work on the train, taking a break in a coffee shop or even going to the pub after a long day, we all reach for our smartphones or tablets and want to log on to save on costly mobile data while surfing the web.
But with more and more people vying for space on crowded networks and many depending on connectivity for important aspects of their day, the technology behind Wi-Fi has had to evolve to offer the speedy access we need and expect.
Universities are under increasing pressure to get this service right. With thousands of students logging on, as well as teachers taking advantage of wireless connectivity for lessons, institutions need to offer fast, reliable Wi-Fi at no cost.
The University of Huddersfield is one place that recognised this early on. With 22,500 students and 2,000 staff spread over a large city-centre campus, it took the decision to install Wi-Fi as long ago as 2004.
Joanna Radley, manager of datacentre, infrastructure and network services at the university, says: "We originally started very small with our Wi-Fi deployment, bringing a couple of disparate hotspots to our library.
"However, when the new vice-chancellor started in 2006, it was one of the first projects we embarked on with him to bring Wi-Fi to the whole campus."
Read more on Wi-FI and wireless networking
Initially, her team worked with Cisco and remained a loyal customer for seven years, expanding the reach of the network and converting to 802.11n as time went by. But then user activity changed and the Wi-Fi on offer had to reflect that, says Radley.
Changing user habits
"The way people use the network has changed dramatically in this time," she says. "The number of people increased as more and more started using smartphones, tablets and other wireless-capable devices, especially in the last two or three years.
"Both staff and students were also beginning to use multiple devices, so it wasn't unusual for one person to have three at any one time. Even if they were only using one actively, these are intelligent devices and would associate with a network if they saw one."
So the university decided to buy a new wireless system, using a government procurement framework to explore all the technologies available.
Cisco lost out to its competitors and the Huddersfield team ended up choosing Meru Networks for its new Wi-Fi deployment.
"Meru won out because of the unique way it tackled the issues we were facing," says Radley. "Any Wi-Fi provider can deal with the numbers and the density, but it was the way it handled the sticky clients and roaming that really suited the way our student and staff populations behave."
She cites the example of a lecture theatre. Students and staff would log on to the network during a lesson but their device would continue to be associated with the access point until it got out of range. This was giving them a bad experience and preventing others in the lecture theatre from going online.
"Meru's single cell virtualisation masks that and cleverly manipulates the issue so the performance is not downgraded," says Radley.
"There are other Wi-Fi technologies that can achieve this, but they are much more complicated and dependent on the design of the wireless deployment, as well as having to be manipulated by administrators in the back office."
The ease of use and simple nature of deployment was chosen for phase one of the roll-out, which saw the university's new student centre (pictured below) – which brings together the student union, catering, sports facilities, advice and other services – become the guinea pig for the new technology.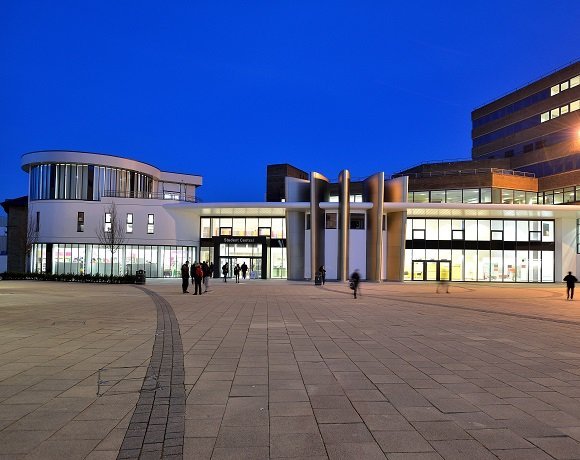 Radley says: "We started working with Capita in October to do the design, including an element of off-plan design as the building was not completed yet. We had to wait for the physical survey, working with the contractors to get in there as soon as we could and ready for when the building opened.
"This meant that although we could ensure the back end was working properly, we couldn't test it in a live environment."
The deployment itself took six weeks and was completed in the middle of January to coincide with the new term. About 80 access points were installed in the building and, even in the short time the system has been live, the university's IT team regularly see around 1,000 concurrent connections.
"The response has been excellent in that we haven't had any feedback or complaints," says Radley. "Wi-Fi is one of those things that is taken for granted until it doesn't work and when the old network failed, we would hear about it straight away."
Future expansion
After the success of phase one, the university is now looking to expand it across the whole campus, with the goal of making it live by the beginning of October – the start of the new academic year.
"We are again working with Capita to do off-plan designs, as well as the university's estates department for the cabling deployment, as a lot of new cabling will need to go in so we can double the number of access points we have now," says Radley.
Read more on IT in universities
"This will allow big systems to use the wireless network, such as our attendance monitoring system, in which students swipe their campus cards when entering a classroom. It is hugely influential when looking at both student attendance and retention."
Radley adds: "Also, more tablet-based teaching can take place, using software to vote in lessons, share images from iPads and just allowing the class to collaborate more."
The Meru Wi-Fi network has meant the university's IT team can feel safe in the knowledge that future projects and plans will have a reliable service.
"The network allows us to not have any constraints on how people want to use Wi-Fi, at least for the foreseeable future," says Radley. "You always get leisure browsing, checking emails or Facebook and so on, but we are seeing people developing new ways to use it within teaching, so we will continue to see more and more capacity needed.
"Wi-Fi has changed from a nice-to-have to an absolutely fundamental service. People expect to have Wi-Fi. Even if you go on holiday you need it, so we need to provide it to our students and staff."