The appliance of 'e'
When electrical retailer Powerhouse wanted to e-enable its supply chain, it decided to go for a home-grown solution - with help...

Download this free guide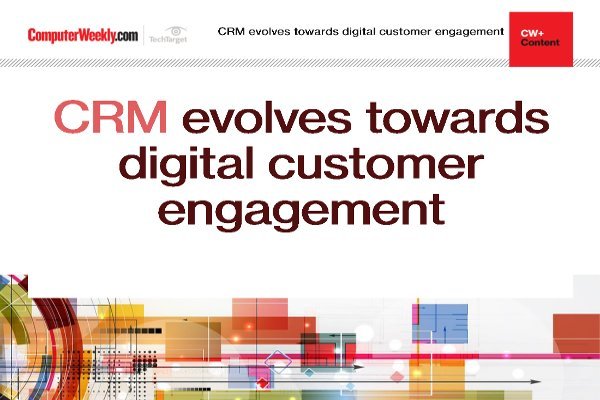 Enhancing digital customer engagement with CRM
Learn about customer relationship management has evolved towards engaging with customers through every channel, with digital at the forefront.

By submitting your personal information, you agree that TechTarget and its partners may contact you regarding relevant content, products and special offers.

You also agree that your personal information may be transferred and processed in the United States, and that you have read and agree to the Terms of Use and the Privacy Policy.

When electrical retailer Powerhouse wanted to e-enable its supply chain, it decided to go for a home-grown solution - with help from a consultancy - which was low risk, yet highly efficient for both ends of the chain.



When the chief executive officer of Powerhouse, the UK's largest independent electrical retailer, decided in the midst of last year's B2B exchange boom that it was time his firm entered the e-age, IT director John Levicount faced a clamour of suppliers offering him the ideal solution for electronic communication with his business partners. Yet the actual transfer of data over the network is the easy part. The real challenges come when you try to integrate electronic communications with the back-office systems at either end and when you want to hold a conversation between two companies using different software.

For retailer Powerhouse - which deals with about 50 suppliers, some 20% of which account for 80% of its transactions - a "universal translator" such as the Edifact standard would be overkill. Instead, Powerhouse worked with Oxfordshire-based Astech Consultants to develop a solution which is fluent in the formats used in the retailer's JDA-based systems and which can be programmed with a number of "phrasebooks" to allow it to translate to and from the data formats used by its suppliers.

This system is Powerhouse's first foray into e-business. It hasn't become involved in any of the previous waves of electronic communications, such as electronic data interchange (EDI), always relying on faxes of purchase orders to its suppliers. "In the past, we've looked at going with a system like Tradanet or another EDI-based solution," explains John Levicount, Powerhouse's IT director. "Even then, we felt EDI was old technology and too expensive, given that we're not a just-in-time business and have quite long leadtimes on many products."

With the CEO's sponsorship, a project team was set up in the early part of last year to review the options for communicating electronically with suppliers.

Initially, Powerhouse had discussions with BT about a trading hub solution BT was developing, which would sit between suppliers and retailers and translate formatted information. BT wanted Powerhouse and one of the retailer's key suppliers, Dyson, to pilot the product. However, the Powerhouse team was doubtful that the solution would work and the initiative got no further.

Powerhouse was also approached by a number of major suppliers that were setting up Internet-based ordering sites where trade customers like Powerhouse could enter their orders. Levicount explains that Powerhouse rejected this option because it wanted to keep control of the ordering process within its own systems. "If we raise a purchase order within JDA, we can match the invoice when it comes in against that purchase order. If we raise a purchase order on someone else's system, we will also have to key that order into our own systems and so there is more potential for something to go wrong," he says. However, Levicount accepts that these supplier extranet solutions do have a role to play in supporting smaller companies - such as independent high-street retailers - which have limited communications and accounting facilities of their own.

A third option for Powerhouse was an initiative being promoted by another electrical retailer. It was looking to involve Powerhouse in a sector-wide, Internet-based public B2B exchange which it was attempting to develop in partnership with a software house. Powerhouse considered the project seriously but decided that if it could talk to its relatively stable supplier base of just 50 or so manufacturers, it didn't really need to adopt a sector-wide standard. Levicount adds that the decision was influenced by the knowledge that solutions offering that kind of standardisation and associated infrastructure have historically come with a high price tag.

Having rejected public and private B2B exchanges, Powerhouse was approached by Astech, a retail and supply chain consultancy specialising in complementary solutions for JDA's retail software. Powerhouse had recently undertaken a major systems replacement project, rolling out JDA products in most areas of its business, and had used Astech to help it create a datawarehouse. Now, the supplier proposed that Powerhouse should use it to develop its B2B4Retail collaborative supply chain software. As well as having confidence in Astech's understanding of the JDA product set, Levicount says Powerhouse "felt Astech took the right attitude. There's no mystique: it's essentially just about sending files back and forward".

Furthermore, Powerhouse saw that Astech had greatly simplified the project development challenge - and the risk - by concentrating on integrating just with JDA at one end of the link. "Our experiences with BT of trying to develop a totally hybrid system showed us that if you try to develop software to fit into any back-end system, it becomes much more difficult," Levicount points out.

With Astech's solution, purchase orders created in JDA are automatically fed into the B2B4Retail engine, which sits on a PC in Powerhouse's datacentre. The engine then uses information about suppliers held in a database to determine how to handle each purchase order. Some suppliers receive the data by file transfer protocol, others in the form of an e-mail, while several suppliers are using Tradanet or the IBM trading network.

Before sending the data electronically, the B2B4Retail system converts the file, which has been outputted by JDA into a format previously agreed with the supplier. This will allow it to be loaded automatically into the supplier's system. If the supplier doesn't want to receive information electronically, the system will print out a purchase order for faxing. Similarly, B2B4Retail can accept incoming invoices via a variety of transport methods and then convert the data into a format which can be automatically accepted by Powerhouse's JDA set-up.

Powerhouse is now looking at how it can link the Astech solution with the system used by its shops to place one-off orders for items it doesn't normally stock. "Although most of our ordering is done centrally, we allow our shops to use a legacy Istel system based on Viewdata to place one-off orders for customers through our electronic point of sale [Epos] system," Levicount explains. "That solution is owned by X-tant and it has just come out with a browser-based version which we're about to trial."

The team developing the Astech system consisted of Powerhouse's merchandising manager, one of its accounts team and a member of its IT department who was familiar with the relevant JDA processes. They identified the functionality they were looking for and this was then implemented by consultants from Astech. From an early stage, Powerhouse also held discussions with a few key suppliers, such as Dyson and Sony, to determine their needs.

Levicount says getting the technical solution in place at the Powerhouse site was the quick and easy part. Most of the team's efforts have actually been concentrated on dealing with trading partners and persuading them to participate. This typically involves getting


The conversation going in the first place


The go-ahead to implement the solution


Agreement on the best transfer mechanism to use and the format the data needs to be in for it to be accepted automatically into the supplier's systems.


However, having kicked off the project in June 2000, Powerhouse was able to start communicating electronically with its first supplier, Electrolux, by the autumn. Further refinements were made and Astech has now created a packaged solution which can be deployed immediately. "It's now just about getting our merchandising people to sign up suppliers and to work out with them how to get the data back and forth," says Levicount.

He adds that the project involves relatively little risk to Powerhouse or its suppliers - especially compared with his experiences of having to install an Epos solution to meet the Y2K deadline. "We can take our time with this project, make sure it works properly and add one supplier at a time," he points out. "If anything did happen and we had to back out, it wouldn't be a major issue because we are still doing paper-based purchase orders."

The risk is lowered still further by the fact that Powerhouse's staff did not have to change their working practices; rolling out the system to more suppliers means they simply undertake certain tasks (such as faxing purchase orders) less frequently.

Powerhouse's approach is also attractive because it isn't forcing its trading partners into adopting one solution. Powerhouse knows only too clearly the impact of being on the wrong end of the manoeuvrings which are taking place in the B2B arena at the moment. Along with other large electrical retail chains, it is resisting attempts by one of the major manufacturers to force its customers to use the company's own extranet to place orders.

Furthermore, the Astech system costs much less to implement than many rival solutions which are designed to support any-to-any communications. Levicount sees the system paying for itself by reducing the time staff spend raising paperwork and faxing it to suppliers or keying data into the accounts system. This will allow the company to redeploy staff to higher value tasks.

However, the number of purchase orders and invoices is relatively low, so the financial savings are also quite small - one of the reasons Powerhouse needed a low-cost approach. "Some of the solutions simply didn't offer a return on investment because of their high costs," Levicount points out.

A more important benefit will be improved accuracy and reliability in Powerhouse's supply chain operations. In the past, there was the potential for orders to be mislaid if the fax machine at either end malfunctioned, but the Astech system requires an acknowledgement that the order has been received. Similarly, there is less potential for mistakes to be made when the data has to be re-keyed into the supplier's system. Powerhouse has also been able to link B2B4Retail to the booking diary used in its warehouse so that it can include information about when and where orders are to be delivered, allocating a timed delivery slot to each purchase order.

In addition, the system will help Powerhouse deal with its takeover of the retail arm of Scottish Power. This will more than double Powerhouse's turnover - from about £200m to £430m - and bring a further 100 shops and two warehouses for the company to manage. As a result, Powerhouse will see a significant increase in the number of purchase orders it needs to issue: with deliveries to be made to three warehouses, it will now have to raise three purchase orders for each supplier and product combination rather than just one.

"If we didn't have this system, that would involve us in a lot more paperwork," says Levicount. "Although we didn't know we would be making this acquisition when we implemented the Astech solution, we will really see the payback during the merger because we will be able to handle that growth without much effort."

Yet the most significant benefit has not been financial. It has been the improvement Powerhouse has seen in its relationships with suppliers as a result of the dialogue opened up when attempting to persuade them to use the Astech solution. Levicount says, "By doing this project and having to talk to suppliers about it, our merchandising manager has been able to meet more people from the supplier side. Having made those contacts - and because the system has freed our staff from many routine tasks - we have been able to move on to discussing other issues that can be resolved to the mutual benefit of both us and our suppliers. For example, we have changed our ordering patterns to assist one manufacturer and have been able to improve our own stock availability. Those conversations simply never happened before."

Secrets of Powerhouse's e-trading success

Choose an approach which gives you only the functions you need, not one which attempts to solve every e-business issue


Select one that matches the nature of your supply chain: if you are not a just-in-time operation, you don't need the cost and complexity of just-in-time functionality


Develop a solution which allows you to retain as much control as possible over key processes


Look carefully at the merits of public and private B2B exchanges before participating


Don't allow yourself to be forced by trading partners into using a particular technical solution


Develop solutions which don't force your trading partners into using particular technologies


Develop a solution which minimises re-keying of data for both parties


Choose software partners which have a good understanding of your existing core technologies


Spend time validating whether software partners can deliver on their promises


Reduce project risk by simplifying requirements as much as possible


Involve staff from all affected business areas in the project team


Pilot solutions with a small number of partners to iron out any wrinkles


Have fallback processes in case you need to back out of implementing the system (either completely or with a particular trading partner)


Be prepared to spend a lot of time "selling" the solution to trading partners


Be realistic about the cost savings that can be achieved, given the size and nature of your supplier base, and look for softer benefits such as improvements to relationships with key suppliers.
Read more on Business applications