Supplier profile: Workday
Computer Weekly analyses the strengths and weaknesses of the rapidly growing cloud HR and finance software company, Workday
From its inception, enterprise human resources (HR) technology supplier Workday has triumphed simplicity, building a consumerised front end on proprietary cloud infrastructure.
Continue Reading This Article
Enjoy this article as well as all of our content, including E-Guides, news, tips and more.
In under a decade, the company has gained a place alongside the established industry heavyweights. Its short history and fresh image belie a tiger that's fighting to corner the enterprise market.
But there are risks to its plans. As the company diversifies, its competitors multiply, and it still hasn't turned a profit since its founding.
Starting out
The company was started in 2005 by Dave Duffield, co-founder of human capital management (HCM) provider PeopleSoft, and Aneel Bhusri, chief strategist at PeopleSoft, following the hostile takeover of PeopleSoft by Oracle.
Duffield has a good reputation. When Oracle laid off half of PeopleSoft's workforce, Duffield launched a fund to help newly redundant employees. Duffield is regularly seen at the bigger Workday events, but Bhusri tends to lead the company in the cut-throat world of Silicon Valley, and is first in line on earnings calls.
Workday came into the world as a multi-tenant software as a service (SaaS) system, which gave the company first-mover advantage. While main competitors Oracle and SAP have been forced to buy their way into this market, Workday is built on the cloud from the ground up.
Enjoying rapid growth
Its main competitors Oracle and SAP have been forced to buy their way into this market, but Workday is built on the cloud from the ground up
Considering Workday's short history, it's in a strong position. Veteran HR technology advisor Steve Goldberg, who has been cutting his teeth from all sides of the HR technology domain since the 1980s, says the secret to Workday's success is that it started securing large customer organisations right after its founding, and growth naturally accelerated with its subsequent initial public offering (IPO).
"The increasing threat the supplier poses to SAP and Oracle – notwithstanding being a fraction of their size or the fact that the two HR ERP [enterprise resource planning] market leaders now have cloud-based, comprehensive talent management suites – is due to two main reasons," he says.
"First, it was the first core HRMS delivered in the cloud, thereby allowing organisations to much better predict and manage HR technology costs. Second, it was the first core HRMS designed for maximum interoperability with other systems, via an object-oriented, service-oriented architecture."
Entering heavyweight territory
Oracle and SAP are the established HR technology titans. Workday is the new kid. In terms of clients, Workday has just over 600, while Oracle and SAP have in excess of 10,000.
Some of the biggest companies in the world have left the titans to take a punt on the new kid. In May 2008, Workday took on Flextronics – a US provider of supply chain services with 160,000 employees – from SAP.
Workday overview
Workday is a public company providing a process-driven, multi-tenant human capital management (HCM) and financial management systems.
The company was set up in 2005.
It has 600+ clients.
New iterations are based on a collaborative relationship with clients.
The product is developed using a continuous development and distribution method.
The business model is based on software subscriptions; revenue is delivered based on multi-year agreements.
And 2012 was the year, according to independent HR technology analyst Naomi Bloom, that Oracle and SAP became more concerned with Workday than with each other. Interestingly, it was also the year Oracle bought Taleo, a key recruitment partner for Workday. Bloom says you only had to "listen to [Oracle CEO] Larry Ellison's performance on earnings calls" to understand how much of a threat the company saw Workday.
Now that Workday is established, it's both innovating and pursuing acquisitions. It purchased Identified in February 2014, a predictive analytics firm that's also known for its social recruitment functionality, essentially allowing Workday to bolster two crucial offerings from one acquisition.
Technology profile
One of Workday's biggest differentiators is its use of metadata to define data relationships. It doesn't use relational databases with hundreds of tables. In fact, its main database holds just three tables – instances, attributes and references. If you looked at this database manually, it would be meaningless.
When the Workday system is activated, the heart of the system – the object management server (OMS) – picks up the data and definitions stored in the three tables and pulls them into the relevant dashboards based on the relationships defined as metadata. If Workday wants to change its product, it redefines the relationship between objects via metadata and then restarts the application.
Some say the Workday approach is a brand new way of doing ERP that will rip traditional suppliers apart. For others, it's the implementation of a vision long-held by IT. Oracle CEO Larry Ellison has called Workday's non-use of relational databases a severe blunder, and something it will pay for in future when it needs to build or buy in the functionality.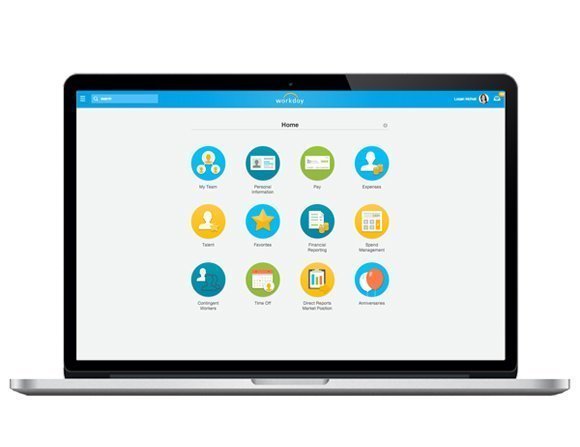 Accessing any part of the Workday system goes through a single layer of security in the application server. Stored data is coded with a customer's unique ID, and all requests-for-data use the ID to access the right data. This prevents customer data from blending – a potential problem for multi-tenant SaaS systems.
Workday initially developed using the fast waterfall method, with one month of design, two months of programming and one month of testing. It switched to agile development, but has since gone a step further, and now works around continuous development and distribution.
Instead of having an old code line and a new one, Workday replaces the existing one. Workday 21, the incumbent iteration, was the first to be built on this framework. The company puts out three new updates a year.
Financial performance
Workday's executive team has said the company won't be profitable for some time. This doesn't seem to have worried investors; as of February 2014, the company was trading at 34 times its sales.
During the first day of the company's IPO, share prices surged 74%, ending the day at $48.69. As of 26 March 2014, they are trading at $94.42.
In terms of current performance, total revenues for fiscal 2014 were $468.9m, an increase of 71% on fiscal 2013. This produced an operating loss of $153.3m, compared with $117.9m the previous year.
Ten of Workday's biggest clients
Johnson Controls, Inc. (170,000 employees)
Nissan Motor Company (160,530 employees)
Flextronics International Ltd (160,000 employees)
Johnson & Johnson (117,900 employees)
Tyco International (69,000 employees)
Rentokil Initial (68,000 employees)
Kimberly-Clark (56,000 employees)
Lenovo (33,000 employees)
Bristol-Myers Squibb (28,000 employees)
In summer 2013, the company issued bonds worth $440m to last until 2018. Going by Workday's last raft of earnings statements, the company is burning cash at around $40m per quarter, so assuming the burn rate stays consistent, it's got 10 quarters to start seeing a return from its clients.
Workday's subscription model does not offer short-term returns, but slowly and surely the company is cornering new enterprise clients. It is confident of an eventual pay-off. Clearly, investors do not disagree.
Too thinly spread?
Workday's financial situation worries some people, but not others. If it doesn't go bust, where else could it run into problems? According to Mark Martin, who has led HR technology implementations for 25 years and now runs consultancy Mark Martin Ltd, its success could cause it to lose focus.
"Workday's financial product is doing very well," he says. "If the financial services industry starts putting its eggs in the Workday camp, it could be hard for the company not to refocus in that area, and the HCM product will suffer."
HCM consultant Steve Goldberg agrees with this assessment. "Arguably the only speed bump in the Workday Express is perhaps the company's desire to achieve what SAP and Oracle achieved in terms of multiple product line depth and breadth, but in decades less time," he says.
"Every product line can't be an 'R&D top priority' at the same time, and Workday will need to maintain enough of an ongoing commitment to the human capital management space or it risks losing some of its avid support in HR technology circles."
The implementation perspective
When it comes to the influence of Workday on HR directors, Martin shares the words of one HR director, saying that for those "in the know", Workday has secured its position as the leader of "those new technology systems".
More on Workday software
Get the highlights from Workday Rising 2013
Discover why TripAdvisor chose Workday Financials
"What makes Workday superior is its 'usability' – very customer driven, global, a strict multi-tenant SaaS system with high configurability, object-orientated and mobile. I still think Workday has more work to sell this USP," he says.
In his previous role as group HR director of Direct Line Group, Martin implemented Workday.
"Compared to implementing a legacy system it is very different," he says. "You cannot underestimate the 'newness' of multi-tenant SaaS systems, such as three releases a year that you don't decide on and cannot stop, and contracts that represent renting a system rather than buying it. IT, risk, legal and finance don't have the 'control' they are used to.
"Fortunately, Workday is genuinely customer-focused and gives considerable support through the process. As for the overall experience, I don't believe any other system on the market would have delivered the ambitious project aims we had in 2011/2012."

---
Jamie Lawrence (pictured left) is editor of online HR publication HRZone. The site provides analysis and advice to help HR professionals perform their jobs more effectively and efficiently. Jamie was previously a small business journalist and a copywriter for an integrated digital agency.