Question: How do I find work as a Java developer?
Solution: Add to your skills by learning C# or .net
Add to your skills by learning C# or .net
The question: I have been working for an IT company for five years as an application developer, but Ispend 75% of my time testing, test planning and writing documentation. Sometimes I write code in our bespoke language or Oracle SQL. I was employed for my C++ knowledge but haven't used it in four years.

The only training the company sent me on was a Java course. I used Java to create online reports with Oracle DB, but this is my only commercial Java experience. I want to find a job as a Java developer and am keen to study, if I could find a company willing to train me. How can I advance my career?

The solution: Add to your skills by learning C# or .net

Download this free guide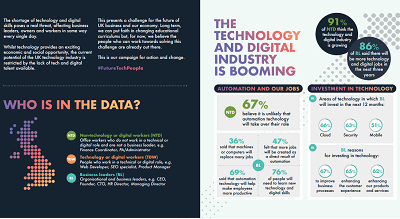 Infographic: Future-proofing UK technology
The current potential of the UK technology industry is restricted by the lack of tech and digital talent available. Read through this challenge for the future of UK business and our economy.
By submitting your personal information, you agree that TechTarget and its partners may contact you regarding relevant content, products and special offers.
You also agree that your personal information may be transferred and processed in the United States, and that you have read and agree to the Terms of Use and the Privacy Policy.


Your question highlights an issue inherent in your field, which you are right to address: the need to keep up with changing technologies. It is therefore important to find a company that supports its employees' career development through training. Ask your recruitment agent to find out about this for you.

Your C++ knowledge is a marketable skill and shows, along with your Java and Oracle SQL knowledge, that you have what it takes to be a strong developer.

Have you thought of learning C# or .net? It might be a good idea to do a course and apply for positions that will allow you to cross-train. As it is newer technology than Java, there are fewer developers in the market, and lack of commercial experience is less of a barrier. With your five years' commercial experience and related skills you will have a head start on developers without experience.

Staying positive is essential and don't let your ambition be thwarted by unsupportive employers. Research the market, talk to reputable recruitment consultants and start making steps to change your career.

Solution by Al Korinek, account manager, Plan-Net Services


E-mail your career questions to: