Pre-budget damp squib disappoints IT businesses
Enthusiasm for the chancellor's pre-budget promises was tempered last week by disappointment that he took no steps to encourage...

Download this free guide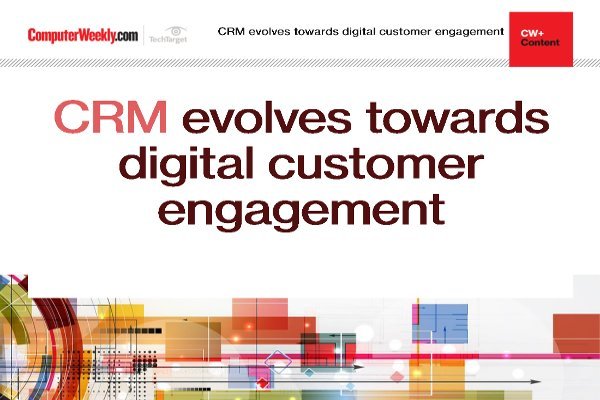 Enhancing digital customer engagement with CRM
Learn about customer relationship management has evolved towards engaging with customers through every channel, with digital at the forefront.

By submitting your personal information, you agree that TechTarget and its partners may contact you regarding relevant content, products and special offers.

You also agree that your personal information may be transferred and processed in the United States, and that you have read and agree to the Terms of Use and the Privacy Policy.

Enthusiasm for the chancellor's pre-budget promises was tempered last week by disappointment that he took no steps to encourage broadband roll-out. Nick Huber reports



The proposal to give users the right to resolve software licensing disputes by referring to a beefed-up Office of Fair Trading (OFT) was the only surprise for the IT sector in last week's pre-budget report.

Presenting his plans last week chancellor Gordon Brown said the Government would give legislative backing to allow consumer associations to bring "super complaints" to the OFT.

That aside, the report stuck with tried and tested measures to boost productivity within IT sector: tax relief for research and development was extended alongside more generous tax breaks for intangible assets.

The proposals drew a qualified welcome from IT and industry groups which had urged the chancellor to take more radical action to boost the snail's pace broadband roll-out and clarify rules for e-government funding.

Tax experts said that many companies do not know how to take advantage of the tax reforms and called on IT managers to work more closely with finance chiefs to maximise potential benefits.

Roger Marshall, IT director of the Corporation of London, welcomed Brown's move to give more power to the OFT. Having a more interventionist OFT could help users to resolve software-licensing issues, he said.

"When the Elite Group [the IT directors' organisation within the British Computer Society] was discussing strategies to deal with Microsoft's licence changes earlier this year, we were told that we could go to the OFT.

"However, a complaint needed large volumes of specific evidence, which would have been hard to compile and, inevitably, open to legal challenge," he said.

"Allowing the OFT to be more proactive could help. It would be getting the UK in line with best practice globally."

Graham Fisher, senior analyst at Bloor Research, agreed that the chancellor's proposals could have an impact on software companies which may be acting in an anti-competitive manner. But, he warned, "It opens the doors for any sort of complaint. There will always be dissatisfied customers, but where there is a genuine case, this is an excellent opportunity to redress the balance."

The other main IT-related measures in the budget were the extension of tax credits for research and development and tax relief on intangible assets, including software and intellectual property.

The existing tax credit to encourage research and development among small and medium-sized companies is to be extended to large companies, subject to a further consultation with industry.

The 2000 Budget introduced a tax credit for research and development for small businesses and the chancellor committed himself in the March 2001 Budget to extend this to all companies.

But the activity that qualifies is tightly defined and will exclude much of a company's IT-related research and development, according to tax experts. To qualify for the tax credit a company's research should have an element of novelty, such as creating a new software language or operating system, said Richard Baldwin, tax partner for Deloitte & Touche.

"Many companies are not aware that this tax credit exists," he added. "But the relief will give quite a boost to medium-sized companies, which will be encouraged to spend more money on research and development."

In order to capitalise on the tax credits companies should be more pro-active and approach the Revenue to discuss whether they qualify, Baldwin added. Here IT managers can play a key role in justifying a research project's value to the Revenue.

"What projects are you working on and does it involve an element of extending knowledge and a new approach? If it does, talk to your finance department, get your accountants on board and see if a case can be made. [But] very often IT departments don't get involved in this."

There was also tax relief for intangible assets, such as intellectual property. Intangibles, on average, account for more than 20% of the market capitalisation of UK high-tech companies, according to a study by City law firm Taylor Johnson Garrett.

The new rules should make it more tax efficient to buy and sell high-tech companies whose main asset is their intellectual property, groups such as the Computer Services & Software Association (CSSA), have claimed.

The CSSA broadly welcomed measures in the pre-budget report but expressed disappointment that the Government had not tackled the issue of broadband rollout for high-speed Internet access.

"The statement makes no mention of government support for broadband infrastructure development. We now await the UK Online annual report, due this week, for any indication of government commitment to this issue," a CSSA spokesman said.

The chancellor also unveiled a raft of pilot training schemes, worth more than £40m, to promote workforce training. They are designed to ensure that adults who struggled at school can improve their basic skills.

Although the Government has not revealed what subjects the training schemes will cover it is likely that they will pay substantial attention to IT skills, given the demand from industry.

The schemes will offer a combination of financial support for employers whose staff take time off; free learning provision for employees; and incentives to take up training.

"These are generally positive but, as in most such statements, the devil is in the detail. Much of the benefit to companies is subject to consultative processes before the budget proper. The further delay in, and low level of, funding support for workforce training and development incentives is disappointing," said the CSSA.

There was also a further move to make share options more attractive to employees by extending tax relief. There will a 10% rate for capital gains tax on the sale of shares held for more than two years. This will come into force from next April.

The move has been welcomed by industry bodies, which argue that share options help companies to attract and retain staff, while fostering further investment in the UK economy.

Richard Holway, of analyst firm Ovum Holway, said, "We can't think there is one reader [in business and the IT sector] who will not be positively affected by this. However big or small your shareholding is in the company that you work for, for your staff, for your private investments etc. "The UK now has the best investment climate - well, for this kind of investment anyway - in the world, and that includes the US." However, Holway urged Brown to simplify the shareholding process further.

The pre-budget report stuck to an evolutionary approach to stimulating the IT sector. Tax credits and relief will be cautiously extended and training will be revamped. One hurdle these measures face is uncertainty about how companies can claim the new tax allowances.

Users IT and industry bodies have also expressed disappointment that the chancellor did not use the report to speed up the roll-out of broadband access to the Internet. But given the depth of problems facing the UK IT sector government support will only have a limited effect.

Budget highlights

Consumer associations will be able to bring "super complaints" to the Office of Fair Trading. The move to tackle anti-competitiveness could boost IT users in licensing disputes with software suppliers



Research and development tax credit extended for larger companies. Designed to boost innovation and narrow the productivity gap between the UK and its main competitors



Further tax relief on the sale of "substantial" company share options". A 10% rate for capital gains tax on the sale of shares after two years will come into force from next April



£40m for pilot training schemes to improve basic skills in the workforce - IT skills are likely to play a prominent role.


Broadband concerns
A straw poll conducted by CW360.com revealed that the biggest disappointment for many was the chancellor's failure to highlight the issue of broadband adoption, although this was tempered by the news of tax cuts and cash incentives for IT firms.

David Harrington, director general of the Communication Managers' Association, highlighted the chancellor's failure to act on broadband and the damage this is causing to e-commerce. "I am intensely disappointed at a great opportunity being missed at such a critical time," he said.

Ronan Miles, chairman of the Oracle User Group in the UK, agreed. "I'm disappointed that Brown didn't do anything about Broadband Britain. Having said that there's some good news about tax credit for research and development. However," he added, "whether that works its way into IT remains to be seen."
Read more on Business applications