Plan ahead and sweat your virtual assets
Firms looking to decrease hardware demands by virtualising should keep a close eye on server growth, costs and workload flows across virtual machines, according to our expert.
Attracted by the prospect of massive savings on infrastructure and system maintenance through virtualising their IT environments, organisations all too often rush in and buy a raft of new hardware to accommodate these new virtual environments' operational demands.

But shouldn't we be planning for virtualisation that delivers optimum performance from existing assets to keep the cost of hardware and its ongoing maintenance down to an absolute minimum?

Download this free guide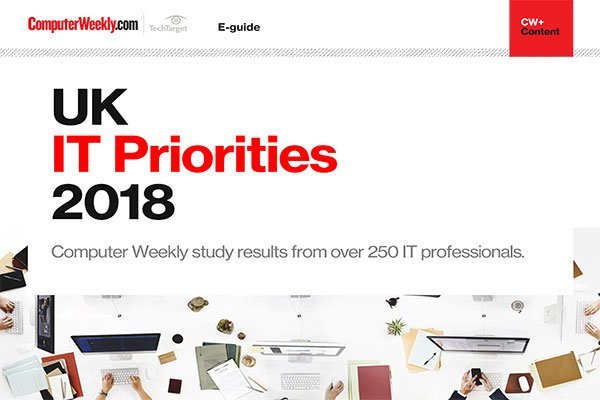 UK IT Priorities 2018 survey results
Download this e-guide to discover the results of our 2018 UK IT Priorities survey, where IT leaders shared with us what they are going to be investing in over the coming 12 months.
By submitting your personal information, you agree that TechTarget and its partners may contact you regarding relevant content, products and special offers.
You also agree that your personal information may be transferred and processed in the United States, and that you have read and agree to the Terms of Use and the Privacy Policy.
All too often, the responsibility of effective capacity planning falls through the cracks between different departments' responsibilities.

Robin Webster, infrastructure consultant at Centiq Limited,
When an organisation makes the leap of migrating from physical to virtual IT systems it should, in theory, significantly decrease its requirement for hardware. But, rather than the IT team rapidly virtualising their systems based on known demands and then assuming it's "job done" for good, effective virtualisation is a continuous process. It demands regular assessment of the existing IT environment -- the completed virtual one and the performance demands the organisation is likely to place on its system as time goes on. This is necessary if the IT department is to successfully sweat its expensive virtualised IT assets.
Managing and monitoring the virtual world is complex -- you can end up with out-of-control license costs and virtual server sprawl -- even though at the time the board thought it had "consolidated" all the systems. Many organisations think they have completed virtualisation when they haven't; they forgot the planning.
It is vital to carefully consider making better use of existing resources when planning and managing a virtualised IT environment. Organisations need to ask themselves the following questions during the pre-assessment, design and support of their virtual IT Infrastructure:
1. How will I know when to grow the servers (scale-up) or buy additional servers (scale- out) and how will I justify this to management -- what data will I need and how will I get them?
2. How will I know which workload is consuming the greatest system resources, and will I be able to keep track of this before it becomes a problem?
3. How will I track workload flows across virtual machines when the organisation is running multi-tiered applications?
4. How will I know when the underlying LAN, SAN or storage array is near saturation -- in terms of performance or capacity?
5. How will I make different business units aware of their IT resource consumption? How do I share out the bill for consolidated hardware purchase?
Managed capacity planning
If this capacity planning is managed properly, then new demands can be matched against the available system capacity, and to a certain degree, accommodated by the existing hardware platform. By monitoring their existing IT system's performance from the outset of their virtualisation project, organisations can avoid the panic reaction of buying new hardware when unforeseen business needs or management requirements occur. Such issues can put IT departments under severe pressure to quickly find a host for the new requirements.
How do I solve my problem today -- and still sweat my IT infrastructure assets in five years?"

Robin Webster, infrastructure consultant at Centiq Limited,
All too often, the responsibility of effective capacity planning falls through the cracks between different departments' responsibilities. It is possible to achieve considerable savings on hardware purchases through observing two overriding rules.
First, the IT department must set and communicate a clear policy on capacity planning from the outset of any IT project. Second, it must achieve and maintain regular communication between IT design consultants and the support team representing the different business units, to understand the business's commercial objectives, their implications for core business processes and the resulting demands on the IT systems -- both physical and virtual.
With this planning framework in place, the IT team is better placed to run the specific and regular system assessments that will help them answer those five critical questions. IT directors that better understand when and how to expand their server estates, which processes consume the most resources, predict trouble from changing workflows, identify creaking storage infrastructures and, critically, show C-level executives which departments really swallow up the organisation's resources, will be best placed to plan a successful and cost-managed virtualisation.
Not only will this approach help deliver more responsive business, it will help the IT team to rationalise its existing infrastructure investments, reducing the scope of hardware needed for virtualisation, prevent future server sprawl and reduce the cost of system management needs down the line. Whisper it, but it might even provide the business case to postpone virtualisation altogether.
By thinking on a long-term basis and planning your organisation's strategy for new demand in advance, you will be able to maximise the utilisation of your existing systems or quickly be able to justify new spending. It's essential to ask "How do I solve my problem today -- and still sweat my IT infrastructure assets in five years?"
Robin Webster is an infrastructure consultant at the UK IT consultancy Centiq Limited and a contributor to SearchVirtualDataCentre.co.UK.
Read more on Managing servers and operating systems