Pizza adds heat to office productivity
Have you ever stared down at your keyboard and wondered how many things were hidden in it as a result of countless snacks and...
Have you ever stared down at your keyboard and wondered how many things were hidden in it as a result of countless snacks and lunches taken over it?
Internet service provider AOL and Domino's Pizza have undertaken some keyboard research to find out what you, and perhaps others sharing your desk, have stored away for later, writes Antony Savvas.

Download this free guide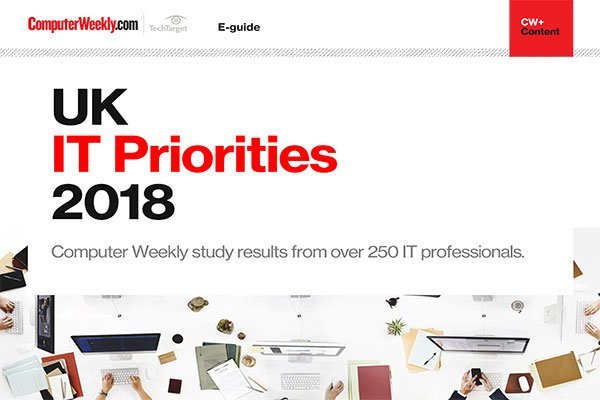 UK IT Priorities 2018 survey results
Download this e-guide to discover the results of our 2018 UK IT Priorities survey, where IT leaders shared with us what they are going to be investing in over the coming 12 months.
By submitting your personal information, you agree that TechTarget and its partners may contact you regarding relevant content, products and special offers.
You also agree that your personal information may be transferred and processed in the United States, and that you have read and agree to the Terms of Use and the Privacy Policy.
The companies commissioned some keyboard analysis at Reading Scientific Research Laboratory and found that identifiable keyboard debris in a typical keyboard included cornflakes (15% of debris found), boiled sweets (15%), noodles (7%) and vegetable pieces (4%).
These figures suggest that coming into the office early and having breakfast, and leaving late after eating a Chinese takeaway is becoming the norm.
But making up the vast percentage of debris (56%) was unidentifiable particles which could have been anything from biscuit and bread crumbs to pastry flakes, chocolate and sweet crumbs.
Adding to the grime were leaves, pencil lead/shavings, staples, finger nails, tape, plastic, insects, foil and hair - all on 1%.
By highlighting the absence of identifiable pizza crumbs thrown up by the research, the two wanted to prove that pizza was the best food to munch while working in IT, and, in particular, surfing the Internet.
They do have some support in this, as IT legends have been created as a result of the combination of acid rock and double pepperoni pizzas. Indeed, a best-selling book on the founders of Apple revealed that they ate nothing for months except for pizza, while they developed the Mac's operating system.
The argument is that pizza is least likely to create keyboard crumbs of all fast food types.
But not content with their research, they've employed the opinions of a nutritionist to promote the idea that plenty of pizza is good for your work rate.
Michael van Straten, author of Superfoods, says, "No other snack food can be as varied, filling, enjoyable and still not crumble or spill.
"You can also eat it with one hand, leaving the other for the mouse," he says.
And pizza is also good for office romance, says van Straten, with many popular ingredients having some useful love properties. The ideal love pizza for the office, says van Straten, is topped with jalapeno peppers (offering stimulation), pepperoni (encouraging you to be daring), and oregano (encouraging adventure).
Read more on Data centre hardware