Microsoft - Company focus
Latest news stories, features, podcasts, blogs and links on Microsoft
Microsoft has become a household name with products like Windows XP, Windows Vista and Microsoft Office, making its founder Bill Gates one of the world's richest men.

Download this free guide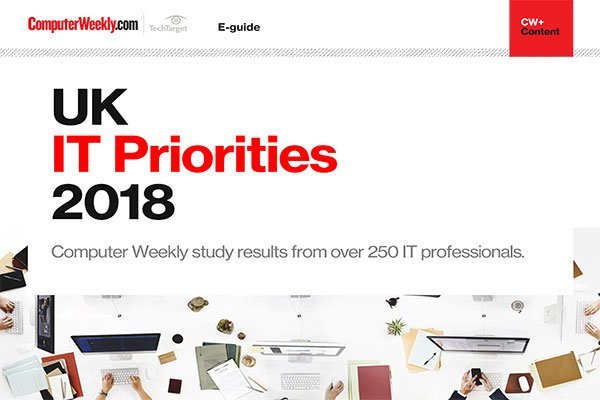 UK IT Priorities 2018 survey results
Download this e-guide to discover the results of our 2018 UK IT Priorities survey, where IT leaders shared with us what they are going to be investing in over the coming 12 months.
By submitting your personal information, you agree that TechTarget and its partners may contact you regarding relevant content, products and special offers.
You also agree that your personal information may be transferred and processed in the United States, and that you have read and agree to the Terms of Use and the Privacy Policy.
Microsoft Windows is by far the most popular operating system, with applications like Microsoft Office 2007, Windows Media Player and Internet Explorer now being used by most businesses and consumers.
The Microsoft Windows operating system itself dates back to 1985 when Redmond, Washington-based Microsoft released MS-Dos, followed by the Microsoft Office productivity suite.
But it was the combination of the graphical Windows 95 operating system on the desktop and Microsoft Windows NT on the server that made Microsoft near ubiquitous. Another factor behind Microsoft's success was its partnership with Intel, the world's number one processor manufacturer.
Microsoft maintains that product innovation is a core part of its strategy, and in 1998, the company released Windows 98, an update to Windows 95, incorporating a number of Internet-focused features and support for new types of computing devices .
But in 2000 and 2004, Microsoft fell foul of US and EU antitrust laws respectively, facing allegations it had abused its monopolistic position. Microsoft was fined and required to alter its Windows XP operating system.
However, with Windows Vista now out, Microsoft, currently lead by Microsoft veteran Steve Ballmer, hopes to revitalise the home and office PC markets once again. Microsoft also continues to woo business users by continuing to develop products like Microsoft Office 2007, Microsoft Exchange Server 2007, SQL Server 2007 and the Microsoft Dynamics family of business applications.
Microsoft's bid to buy Yahoo
February 2008: Microsoft makes £22.5bn bid for Yahoo search engine >>
February 2008: Microsoft buys Yahoo? >>
February 2008: Microsoft's Yahoo bid - the end of Windows? >>
Microsoft news stories/features
June 2007: Possible Microsoft office security flaw >>
June 2007: New encryption options in Windows Vista >>
June 2007: Microsoft outlines Windows servers virtualisation costs >>
June 2007: Microsoft releases six security patches >>
June 2007: Microsoft patches Windows Vista, IE 7 >>
June 2007: Inside MSRC: Microsoft security matters on MOICE and Outlook flaws >>
June 2007: Securing Windows clients: top tips for summer 2007 >>
June 2007: Firms still struggle to share information: Microsoft survey >>
June 2007: Final judgement on Microsoft anti-competitive behaviour >>
June 2007: Open battle will boost compatibility >>
June 2007: Chaos impresses the Microsoft judges >>
May 2007: LM de-emphasised, NTLMv2 in Vista >>
May 2007: Windows mobile to capture mobile market through apps >>
May 2007: When Microsoft Vista and VPNs don't mix >>
May 2007: Admins run into trouble with Microsoft updates >>
May 2007: Internet Explorer security learning guide >>
May 2007: Microsoft NAP-TNC compatibility won't speed adoption, users say >>
May 2007: Microsoft fixes Office 2007 patch issues, releases MOICE >>
May 2007: Microsoft investigates mew office zero day flaw >>
May 2007: Vista has had no major effect on PC sales >>
May 2007: Microsoft releases Office document security protection >>
May 2007: Windows Vista: inside the new security features >>
May 2007: Microsoft releases Popfly alpha >>
May 2007: Microsoft back ODF document standard >>
May 2007: UK's e-mail to be archived for posterity >>
May 2007: SAP and Microsoft optimise suite >>
May 2007: Windows Vista's little surprises >>
May 2007: Comms hardware firms get behind Microsoft unified communications >>
May 2007: Microsoft should scrap Patch Tuesday >>
May 2007: Microsoft announces new SQL server >>
May 2007: Microsoft issues further guidance on exchange update >>

Other Microsoft special reports
Microsoft: after Bill Gates >>
Microsoft IT training: an expert view >>
Microsoft Windows: an expert view >>
Microsoft Windows Vista: an expert view >>
Microsoft Business Solutions: an expert view >>

Microsoft on the rest of web
Microsoft: Windows Vista home >>
Microsoft: help and support >>
Microsoft: Microsoft Office online >>
Microsoft: Microsoft Windows update >>
Microsoft developer network >>

Microsoft blogs
Microsoft developer network: blogs >>
Microsoft: Windows Vista blogs >>
The unofficial Microsoft web log >>
Scobleizer: Robert Scoble's blog >>
Inside Microsoft: part of the blog news channel >>

Microsoft video
Microsoft CEO Ballmer on mobile devices - Microsoft vs Apple >>
Microsoft unveils the surface >>
Microsoft Vista feature presentation >>
Microsoft Windows >>
Read more on Operating systems software