Making the most of consultants' expertise
Consultants may help or hinder your organisation. Julia Vowler reports on how to get good value and extra skills when employing...
Consultants may help or hinder your organisation. Julia Vowler reports on how to get good value and extra skills when employing them for your company.



From one-man bands to billion-dollar global businesses, IT consultancy is something that no corporation can do without. A great deal of money for consultancy is being spent. The consulting industry is a lucrative one, and there's only one place where all this money can be coming from, and that is the corporate budget.

It is the job of IT directors to ensure that wherever they get consultants from and whatever they are employed to do, the business gets good value.

Download this free guide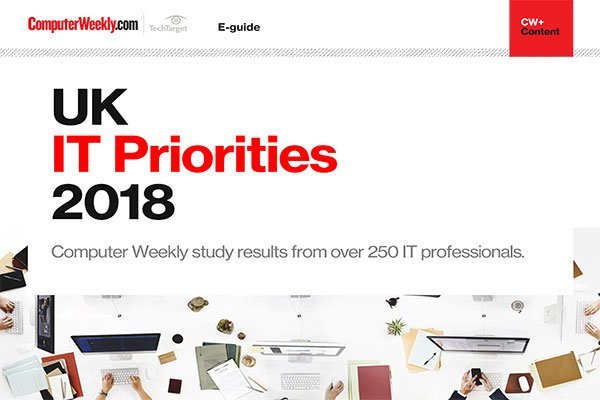 UK IT Priorities 2018 survey results
Download this e-guide to discover the results of our 2018 UK IT Priorities survey, where IT leaders shared with us what they are going to be investing in over the coming 12 months.
By submitting your personal information, you agree that TechTarget and its partners may contact you regarding relevant content, products and special offers.
You also agree that your personal information may be transferred and processed in the United States, and that you have read and agree to the Terms of Use and the Privacy Policy.
To do that, the IT director needs to be in control of consultants, not the other way around.Everyone knows the horror stories of letting one in and three years later, there's a hundred you can't get rid of. Consultants keep finding new things to do and charge for.
Overdosing on consultancy is a sign of organisational distress. Marks & Spencer is said to have had dozens of advice firms in, and appointed another company to manage them all. Not a healthy sign.
If you don't want your company to be the example of the worst on the circuit, what rules should you apply to managing consultants?
Rules
There are several rules. The first and most important is obvious. It is knowing why you are hiring consultancy and what you want it to achieve.
"The most important rule is to be clear what you expect and how you will measure once you've got it," says Philip Virgo of the Institute for the Management of Information Systems.
There are, says Virgo, two reasons for recruiting. These are doing what you could do yourself, but don't have the time or resources for, or doing what you can't. He warns the latter reason means 'to do what can't be done at all by anyone.' In this case, the purpose of the external consultant is a scapegoat.
"That can be a very valid reason (for hiring them)," Virgo asserts.
Like any project, the work you bring to a consultancy has to have boundaries. "You need to ring-fence it so it doesn't drift," he says.
Consultants will also be looking around trying to spot work they can do when inside your building. They have sales targets to meet and generating follow-on work is an excellent way to do so. It's up to you to decide whether to resist or agree. But if you do approve, it becomes another project.
Dividing contracts into chunks with deliverables, time-scales and investment calculations makes obvious sense when managing an IT consultancy.
Virgo points out, however, that you may get a different attitude from smaller agencies specialising in scarce skills. Instead of wanting to achieve symbiosis with the host, they need as much business as possible while in demand. They are not going to stay once they've done their work.
As soon as they've finished, "they'll charge you an arm and a leg and get out," says Virgo.
If they are affected by the IR35 tax change, they'll be out sooner. They can't take a risk of being seen as a permanent employee by the taxman.
Divide and conquer
Another technique for consultants is applying the divide and conquer rule. But is this a dishonourable sides-against-middle play? Not if it's done openly, explicitly and fairly.
"A number of companies deliberately and openly dual source their consultancy," says Virgo.
Multiple sourcing consultancies may be as effective as Adam Smith's "invisible hand" in ensuring competition amongst suppliers results in maximum efficiency and minimum cost for the purchasers. Sometimes it's good to be more proactive. Suppliers of any goods or skills need to be managed by the purchaser. It makes sense to hire someone.
If you don't have the time or expertise to police a consulting contract, hire someone who does. There are plenty of highly experienced, often retired professionals who can be brought in to ride shotgun on consultants, says Virgo.
Whoever you get, he adds, one rule must be applied across the board. The performance monitoring consultancy must not be allowed to bid for work themselves. Their role is to police other firms. That way, their neutrality is ensured.
The bottom line on managing is you get the consultancy you deserve. As with outsourcing, a certain percentage of the budget simply must be spent on managing the contract. Or the final bill will be much higher.
Next week - the consultants reply. Are you the user they hate to work for?
Advice on consultancies
Recognise there are only two reasons for hiring consultants: to do what you could do if you had the time and resources, or to do what you lack the skills to achieve
Define what they will do and when it will be done. How will you measure whether it's been done well?
Have the say-so on exactly who the consulting firm sends
Have the approval on any sub-contractors the firm uses
Turn any suggested follow-on work into another defined and measured project
Use a third party - an individual or consultancy - to ride shotgun on consultants, in the style of consulting and contracting engineers. There needs to be strict contractual bans on collusion between the two
Accept that no one else has the interests of your company at heart except you. You cannot expect external consultants to be responsible for your costs
Read more on IT for small and medium-sized enterprises (SME)